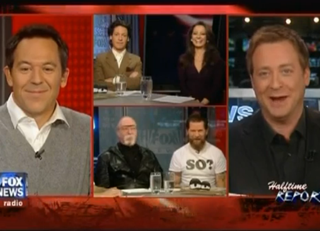 It was "spooky." Its message is that "we are all going to die anyway." It "lowers the level of discourse." It "raised the level of discourse." It was equal parts David Lynch and PETA-bait horror movie. The panel on last night's Red Eye had a lot of opinions about the latest ad from the Herman Cain PAC "Cain Connections," in which a small child dumps water on a drowning fish to make the point that the stimulus isn't helping the economy, while Cain looks on from a faraway cliff. And boy, is it a weird ad.
RELATED: Herman Cain's Bizarre New 'Drowning Goldfish' Ad Proves He's Still Got It
Host Greg Gutfeld explained that the Cain staff told the media "the goldfish was fine," saying specifically, "if it was harmed, it didn't complain." The panel had a variety of responses as bizarre as the video itself– Jeff "Skunk" Baxter said of the video, "now that we don't have a Roman coliseum, we can't kill people, we can just humiliate them." Remi Spencer thought the video was abundantly spooky, particularly the child, whose "voice didn't match her age." Gutfeld thought it was a step up for most ads, if only for "channeling David Lynch" and, later, Faith No More. Gavin McInnes thought it was a "turd." Bill Schulz, meanwhile, missed the classic Cain campaign aesthetic: "if the fish had been smoking, maybe while wearing a tar-stained mustache…" he pondered.
During the Halftime Report, Andy Levy had several corrections to dole out, the first to the Cain spokesman for claiming the fish was fine, as fish have been scientifically proven to feel pain. The second was to Cain: "isn't he saying the stimulus should've been bigger?" McInnes specified that the message appeared to be that it "should have been bigger and in a slightly more contained area." The child also made McInnes note, "how come no one on this show ever has kids?", which resulted in its own debate about the merits of hanging around Schulz.
The segment via Fox News below:

Have a tip we should know? tips@mediaite.com