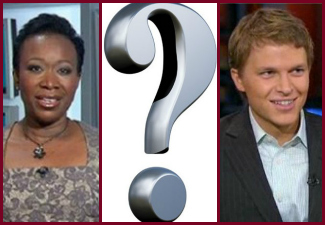 As some of you are painfully aware, I'm a fantasy football geek. This season is no different than others in the 21st Century: Currently the owner of two teams (one epic, one jinxed) and somewhat responsible for a third (my wife's formidable playoff-bound squad), Sunday is always Funday at Chez Conch.
But being an NFL GM only ranks second to my true dream job: Guy-Responsible-for-Hiring-Talent at all the cable news networks.

Every so often, the opportunity to play GRFHT presents itself when a time slot becomes available. So when the 4:00 p.m. hour opened up at MSNBC with the resignation of Martin Bashir, I immediately put on the GRFHT cap.
As you've likely seen, Mediaite has a poll going on who will be the next host named for 4 p.m. on the "Lean Forward" network. The time-slot isn't particularly one with a set genre: Fox goes with Neil Cavuto, primarily a finance guy who also does civil interviews with everyone from CEOs to Democrats to Republicans. CNN offers Jake Tapper, who also pulls off the rare feat of seamlessly walking down the middle in an increasingly polarized medium. While Cavuto leans towards business stories, Tapper—a former White House Correspondent for ABC News—leans political…although his show, like Cavuto's, can also delve into human interest, sports, pop culture or entertainment.
Still, this allows MSNBC a chance to offer something different, something bold, that hammers home progressive politics from two different perspectives (more on that in the moment).
The aforementioned Mediaite poll currently has The Grio.com's Joy-Ann Reid leading Ronan Farrow by a comfortable 34-18 percent margin. A distant third and fourth are Steve Kornacki (who replaced Chris Hayes on the weekend morning show, Up) and Michael Eric Dyson at roughly 8 percent each. Reid also won a similar TV Newser poll (albeit by a much smaller margin) when not including unrealistic candidates in the "other" category who include Rush Limbaugh and Sarah Palin.
So given all of the results, MSNBC President Phil Griffin should just give the show to Reid and be done with it, right?
Well…one problem: Management has already stated that Farrow will get a show Monday through Friday, time-slot TBD. To that end, placing Reid into the 4:00 PM slot therefore means having to move someone else in the current dayside lineup (Thomas Roberts, Chris Jansing, Andrea Mitchell, etc.) to make room for Farrow.
If avoiding conflict internally is the goal, placing the 25-year-old Farrow — a former member of the Obama Administration and son of actress Mia Farrow — would certainly be the easiest thing to do. But like most situations in life, there is room for compromise here while still making the best move possible for the network.
So here's the plan. Ready?
Give both Reid and Farrow the 4:00 PM slot.
The logic behind such a move? Farrow has never hosted a program in any capacity before. To throw a 25-year-old onto a national stage and ask him to effectively fill one hour is much, much tougher than it sounds for someone who's never done it before. And from experience, I can safely say that being a guest/pundit and doing a 5-7 minute hit is a sprint. But navigating close to 300 minutes per week is a marathon, uphill (both ways)…in the snow.
But what if Farrow had someone to help carry the load? Well, that's a different story.
Reid, as Mediaite's Tommy Christopher points out, has fifteen years worth of experience in radio and television and has guest-hosted other MSNBC programs on several occasions. Farrow, in contrast, has only done the aforementioned guest hits, but can obviously be groomed as a host with the tutelage of Reid. Attracting younger eyeballs—the ones advertisers most covet in the key 25-54 demo—will also be something Farrow can also bring if he proves up to the task.
The fans at home want Reid.
MSNBC management has committed a show to Farrow.
Farrow needs some on-the-job-training.
Reid can help him succeed while expanding her own growing brand.
A co-hosted show on all-politics-progressive at 4:00 PM on MSNBC…
However this shapes up, like fantasy football, it's always fun playing the Guy-Responsible-For-Hiring-Talent.
— —
>> Follow Joe Concha (@ConchaMedia) on Twitter
Have a tip we should know? tips@mediaite.com