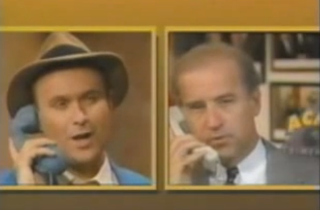 Way over yonder in the 1990s, Vice President Joe Biden was just a lowly Senator Joe Biden from Delaware.
And also in the 1990s, there was a great children's game show — nay, the greatest children's game show ever — called Where in the World Is Carmen Sandiego?
The PBS show featured kid contestants acting as "gumshoes," trying to win prizes by using their knowledge of geography to hunt down the titular red-coated villain.
This writer, in particular, was phenomenally good at geography. My bedroom was fully stocked with atlases, books about different countries, and old-school globes that didn't come with interactive wands or any newfangled nonsense. In fact, my obsession with geography was so severe that at my grandfather's funeral, I was paraded around to entertain the old folks with my savant-like knowledge of capitals. Kind of odd to look back upon now, but whatever.
I dreamed of one day being on that PBS game show but, alas, I never got such a privilege.
So what does this all have to do with Joe Biden? Well, if I did ever make it onto the hallowed grounds of that PBS studio known as the ACME Detective Agency with giant floor maps, I may have gotten a call from then-Senator Joe Biden praising my detective skills, telling me this is a "big fucking deal" and whatnot.
Argus Leader reporter David Montgomery dug up the video of Biden doing almost exactly that for someone else… nearly 19 years ago to the day.
In this clip from the Nov. 8, 1993 episode of the show, incessantly goofy host Greg Lee received a call from Senator Biden. Uncle Joe backhandedly praised Lee as "the somewhat notable detective of the next 12 minutes," but for whatever reason, resisted telling him how big a fucking deal this whole thing was. Missed opportunities, I guess.
Watch below from PBS, via YouTube:

—
>>
Follow Andrew Kirell (@AndrewKirell) on Twitter
Have a tip we should know? tips@mediaite.com