Bachmann Urges 'Tolerance' for Arizonans Who Want to Discriminate Against Gays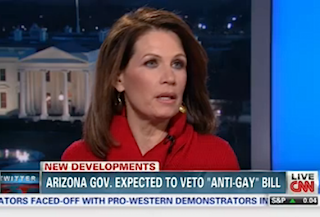 Earlier today, we identified several prominent Republicans who are doing everything they can to distance themselves from Arizona's controversial SB1062 bill, which would allow businesses to deny service to gay and lesbian customers based on religious belief. One Republican who does not oppose the bill? Rep. Michele Bachmann (R-MN).
Bachmann appeared on CNN's The Situation Room with Wolf Blitzer Wednesday and used part of her time to urge "tolerance for the community of people who hold sincerely held religious beliefs." While the congresswoman said she respects both sides of the debate, she said she does not think Governor Jan Brewer should veto the bill as other conservatives have been urging her to do.
Asked by Blitzer if the bill will "open the door for less tolerance for gays," Bachmann answered, "In fact, it's just the opposite. This is a decided level of intolerance. It's effectively eviscerating the rights of freedom of speech, expression and religious expression for the people of Arizona and it sets a terrible precedent."
Blitzer pushed back, calling the bill "discriminatory" and not "respectful" to the gay community.
"Remember we're treating people who hold sincerely held religious beliefs differently than other Americans either," Bachmann said. "This isn't one side or another. What we're talking is tolerance on both sides. And t is not tolerant to force people to violate their religious beliefs." She said if Brewer does veto the bill, it will "serve us not very well in terms of tolerance in the United States."
Watch video below, via CNN:
[photo via screengrab]
— —
>> Follow Matt Wilstein (@TheMattWilstein) on Twitter
Have a tip we should know? tips@mediaite.com