Reporter Compares House Dem Retreat to 'Police State': They Followed Us to Bathroom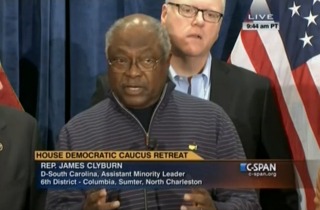 New York Times reporter Jeremy Peters confronted Democratic lawmakers on Friday about how the press was seemingly under a "police state" at the House Democratic Caucus Retreat in Philadelphia, Pa. According to Peters, some members of the press were even followed on their way to the bathroom.
"At times for the reporters here it seems like this has been like a police state," Peters said. "At your — the caucus's — direction, staff has been extremely heavy-handed, following reporters to the bathroom at times — yes, that's actually, we've been escorted everywhere we've gone."
Peters added that the Republicans do not follow a similar protocol, and questioned whether following reporters to the bathroom was "really necessary."
Rep. Xavier Becerra (D-CA) denied that the caucus directed security officials to follow reporters to the bathroom, and challenged Peters to "get names" of people who carried out that protocol. According to Peters, though, the officials and Capitol Police said they were operating "at the direction of the caucus."
"Get names, because that wasn't at the direction of the caucus," Becerra reiterated.
Rep. James Clyburn (D-SC) stressed the importance of security "challenges" at the retreat given that the president and vice president were both in attendance: "I think that we had a responsibility to maintain the security that the Secret Service — because I spoke with some of them — were demanding."
Last year, another New York Times reporter, Amy Chozick, recounted how a Clinton press aide escorted her to the bathroom and even waited outside the stall at the Clinton Global Initiative's annual meeting in September.
Watch the video below, via C-SPAN:
[h/t Washington Free Beacon]
[Image via screengrab]
— —
>>Follow Andrew Desiderio (@forza_desiderio) on Twitter
Have a tip we should know? tips@mediaite.com