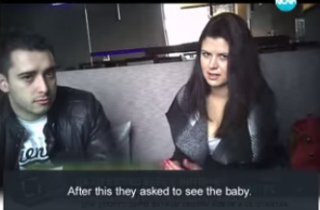 Over the past few years baby-trafficking has become a significant problem throughout the world, and in the poorer areas of Eastern Europe in particular. In 2011 11 people were arrested by Bulgarian and Greek authorities for participating in a baby-trafficking ring, in which people would pay between 15-20,000 Euros for new born children. In January, seven other alleged baby-traffickers were arrested in Greece, including five Bulgarians, followed by another in February.
Recognizing the practice of baby-trafficking as a troubling trend in her country, a journalist for the Bulgarian news program Nova named Veronika Dimitrova began looking around online for prospective clients for an undercover investigation. She stumbled upon a message from a London couple who claimed to be in the market for purchasing a baby. They said they were unable to have one of their own, and would pay any price necessary. Dimitrova arranged for the couple, Jonathan Calvert and Heidi Blake, to fly to Bulgaria, where they would negotiate the sale, all with the intentions of filming them as part of her report.
Scary stuff indeed. There was just one problem. The couple on the other end of the deal had the very same idea. It turns out that Calvert and Blake were actually undercover journalists themselves, working for the Sunday Times in London.
Both sides eventually confessed, and towards the end of the segment Nova shows an email from Blake saying: "We are very amused by this – it hasn't ever happened to us before!

"We have found lots of women in Bulgaria offered to sell their babies or act as surrogates for cash. How about you?
"We are also looking at Romania, Georgia and Ukraine and other countries."
There probably aren't many light-hearted moments in the world of investigating underground baby-trafficking, but this is about as close as it gets. Watch Nova's report on the story below:
— —
>> Luke O'Neil is a journalist and blogger in Boston. Follow him on Twitter (@lukeoneil47).
Have a tip we should know? tips@mediaite.com