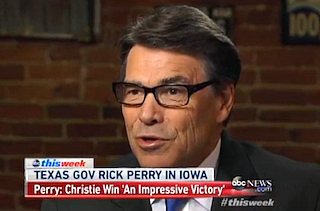 Texas Governor Rick Perry spoke to ABC's Jeff Zeleny on This Week With George Stephanopoulos Sunday morning about the need for the tea party to become more pragmatic to win elections, and whether Governor Chris Christie's brand of Republican rule will play outside of New Jersey.
"if you can't win elections, you can't govern," Perry said of the tea party. "That we didn't win in '08 and '12—we're paying a huge price in this country."
Perry took issue—in a roundabout way—with Senator and fellow Texan Ted Cruz's (R-TX) recent anti-Obamacare antics, which cost the GOP in their favorability ratings.
"I certainly enjoyed the twenty-one hours of him standing up and pointing out the foibles of Obamacare," Perry said, referring to Cruz's faux-filibuster. "It would have been wiser for us to lay the wood to the president for being able to call him out on this, let it become an issue of, 'Mr. President, you own this.'"
Perry also took an early shot at Christie, a presumptive candidate for the 2016 GOP nomination.
"He was a successful governor in New Jersey," Perry said of Christie. "Now, does that transition to the country? We'll see in the later years and months to come."
"Is that code for 'He's a moderate?'" Zeleny asked.
"Is a conservative in New Jersey a conservative in the rest of the country?" Perry mused. "I'm just saying, we'll have that discussion at the appropriate time."
Watch the full clip below, via ABC News:
[Image via screengrab]
——
>> Follow Evan McMurry (@evanmcmurry) on Twitter
Have a tip we should know? tips@mediaite.com