Right-Wing Radio Host Compares Duck Dynasty Star to MLK, Can't Stop Comparing Stuff to MLK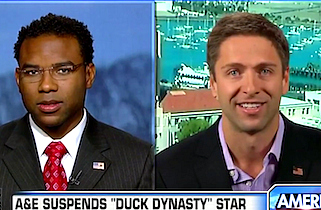 Conservative radio host Mike Slater likened suspended Duck Dynasty star Phil Robertson to Martin Luther King, Jr. on Fox's America's Newsroom Thursday morning, linking the religious source of their views on homosexuality and asking if liberal panelist Richard Fowler therefore hated King as well.
"In 1958, a young boy wrote a preacher a letter saying he was struggling with homosexuality," Slater began. "And this preacher wrote back, saying, 'Son, don't worry, there is a solution to your problem.' And that preacher was Martin Lurther King, Jr. Richard, do you hate Martin Luther King, Jr.?"
RELATED: We Should Ridicule Duck Dynasty Star's Views on Homosexuality; But Suspend Him? Come On.
"That stretch is way too far," Fowler replied. "It's a total straw man. Beyond that, this GQ interview was loaded with hatred. It is not only his talk about homosexuality. He goes on to talk about how African-Americans were doing pretty well during Jim Crow. This guy's language in this interview was so absurd that there was no way A&E to even keep him on the show without some public backlash from the American people."
This was the second time within the past month Slater has invoked MLK in defense of a conservative position. On the same program three weeks ago he paraphrased a line from Letter From the Birmingham Jail to argue that the civil rights leader would have opposed the income redistribution aspects of the Affordable Care Act—which caused panelist Leslie Marshall to inform him that his comment would leave King "rolling over in his grave."
Watch the clip below, via Fox News:
[h/t Raw Story]
[Image via screengrab]
——
>> Follow Evan McMurry (@evanmcmurry) on Twitter
Have a tip we should know? tips@mediaite.com