Robert Gibbs Takes Jab At Romney's Offshore Money: He's Driving A Bus Probably 'Made In Switzerland'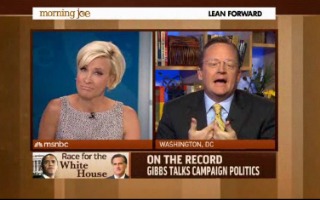 Obama campaign adviser Robert Gibbs appeared on Monday's Morning Joe, driving off with a "bus" analogy to help explain his take on Mitt Romney's offshore accounts and the impact these will have on voters.
"We've had a guy driving the bus for the past four years," said panelist Mike Barnicle. "Why should I continue to allow Barack Obama to drive the bus when I have another option?"
RELATED: CNN's Candy Crowley Grills Obama Advisor Over Anti-Romney Attacks Rated False
"Because, when Barack Obama got the keys to the bus," Gibbs replied, "it was trapped in the ditch with three flat tires. We've changed the tires, we've pulled the bus out of the ditch, and we're starting up the road to strengthening the middle class."
But don't step off that bus just yet:
There's a different theory. Mitt Romney wants to take that bus — probably a bus made in Switzerland or Bermuda — and he wants to turn that bus around, he wants to pick up some millionaires and billionaires, shower them with cash. We'll stop by Wall Street, we'll take regulations off of Wall Street; we'll let them write the rules. Then we'll see how that works out for the middle class.

That's exactly what this campaign is about, minus the weird bus analogy.
Host Mika Brzezinski wasn't about to let his "Bermuda" quip slide without comment, and asked him to explain his jab.
Gibbs argued that Romney's dealings with Switzerland and Bermuda are relevant to this campaign given the need for tax reform. Is someone with tax shelter in places like the Cayman Islands, Bermuda and Switzerland, he asked, really going to be able to "look under the hood" when it comes to the issue of ensuring tax fairness? The American people deserve to know, he added, whether he's sheltering money and properly paying his taxes.
Check it out, courtesy of MSNBC:
Have a tip we should know? tips@mediaite.com