Romney Addresses Clinton Global Initiative, Outlines New Strategy For World Which Pairs 'Aid With Trade'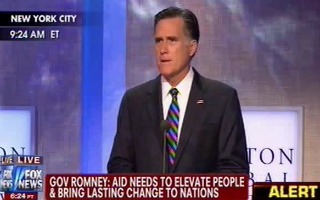 Republican presidential candidate Mitt Romney addressed the Clinton Global Initiative on Tuesday morning where he praised private enterprise and outlined a plan for a future American program of foreign aid that is tied to fostering free enterprise, speech and property rights around the world.

After a warm introduction by former President Bill Clinton, Romney took the opportunity to praise the 42nd president's campaign skills. "If there's one thing we've learned this election season, by the way, it's that a few words from Bill Clinton can do a lot of good," Romney said.
Romney went on to praise American generosity – detailing how American aid, troops and charity are often the first to areas in the world plagued by strife. However, he cautioned that persistent problems in the globe show that aid and charity are simply not enough to overcome systemic corruption around the world.
"Today, 82 percent of the resources that flow to developing nations come from the private sector, not the governmental sector," said Romney. As an example, he detailed how the John Deere company has fostered a successful initiative to increase farming employment and yields in the developing world.
Romney said that there is a problem with giving aid as an end in itself rather than a means to achieve change. He detailed the number of recent events that are unsettling in places like North Africa and the Middle East. "The population in the Middle East is very young," said Romney. "The levels of youth unemployment are excessive and chronic."
He recounted the story of the Tunisian fruit vendor whose self-immolation sparked the Arab Spring. "I'll initiate something I'll call 'Prosperity Pacts,'" said Romney. He said that the program would identify barriers to trade in foreign nations and, in exchange for helping remove those barriers, nations will repeal restriction on speech and property rights.
"The aim of a much larger share of our aid must be the promotion of work and the fostering of free enterprise," said Romney. "Nothing we can do as a nation will change lives more effectively and permanently than sharing the insight that lies at the foundation of America's own economy – and that is, that free people perusing happiness in their own ways build a strong and prosperous nation."
Romney said that freedom and free markets is not perfect, but it is more reliable and more successful. He said he wants to negotiate new partnerships and create what he will call the Reagan Economic Zone – a new free trade zone. "We're going to couple aid with trade and private investments," said Romney.
Watch a clip from the speech via Fox News Channel:
> >Follow Noah Rothman (@Noah_C_Rothman) on Twitter
Have a tip we should know? tips@mediaite.com