Romney Commencement Address At Liberty University: Marriage Is 'Between One Man And One Woman'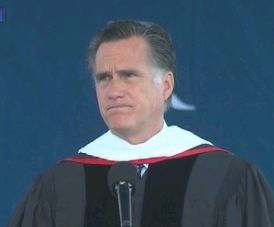 Republican presidential candidate Mitt Romney delivered a commencement address at Liberty University earlier today in a speech that focused more on his life experiences than policy. Romney spoke of how "American culture promotes personal responsibility," including the value of getting a good education. He told students that what you believe helps shape your future just as powerfully as any other force in life, if not more so. However, Romney did manage to restate his belief that marriage is between a man and a woman, to much applause.
RELATED: Liberty University Student Handbook: Curfews, Preferred Hair Styles And Punishments For Watching R-Rated Movies
Romney talked about freedom of religion in the United States and how "there is no greater force for good… than Christian conscience in action." He said that faith is down to the individual, and sometimes it's easy to be distracted from one's faith by the "busyness of life." Personal success is different from spiritual success, Romney noted, "thanks to the grace of God."
He then talked about the importance of family in a fulfilling life, recalling an anecdote about his father proudly saying his greatest achievement was raising his children. He emphasized that while a career is very important, the family is the ultimate career and all other careers and jobs are all about providing for the family.
Romney shared a story about when he was involved with the 2002 Olympic Games in Salt Lake City, Utah. He admitted that it wasn't necessarily a "logical choice" for him to participate in, but he ultimately found it to be a rewarding experience.
RELATED: Mitt Romney Offers To School President Obama…On A Water Ski Course
Then Romney addressed how people of different faiths can find common ground "when there are so many differences in creed and theology."
"Surely the answer is that we can meet in service, in shared moral convictions about our nation, stemming from a common worldview. The best case for this is always the example of Christian men and women working and witnessing to carry God's love into every life… The call to service is one of the fundamental elements of our national character and culture. It has motivated every great movement of conscience that this hopeful, fair-minded country of ours has ever seen."
Watch part of Romney's speech below, courtesy of CNN:
Have a tip we should know? tips@mediaite.com
Josh Feldman - Senior Editor