Ron Fournier: 'Asinine' Small Budget Deal 'Shows How Pitiful' D.C. Has Become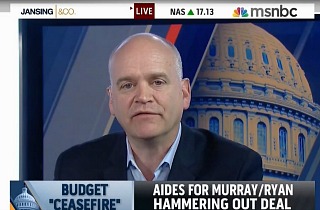 Ron Fournier, editorial director for National Journal, heaped scorn on members of Congress from both parties on Monday in a discussion on MSNBC about a proposed budget deal. The outlines of the deal, which avoid tackling debt drivers or reforming the tax code, will raise taxes on American travelers and may cut pension benefits for millions of Americans. Fournier called the deal "absurd" and said it was "pitiful" that lawmakers would congratulate themselves and take a vacation after this punt.

MSNBC anchor Chris Jansing noted that the small budget deal, many of the details of which remain unknown, was described by the Washington Post as a "ceasefire."
POLITICO's Carrie Budoff Brown noted that, while the deal is far from a grand bargain, is significant because the congressional negotiators plan to address some of the sequester cuts that have roiled a number of constituencies in Washington D.C. She added, however, that a long-term structural budget deal is a recipe for gridlock because both Republicans and Democrats are unwilling to compromise.
Fournier noted that this is indicative of how Washington works – something that he and average Americans should not tolerate. "I think, the fact that you're even asking if this can be considered a deal or success just shows you how pitiful this city gotten right now," he declared.
RELATED: Mediaite Morning Reading List: Budget Deal, Unemployment, the Minimum Wage and More
"I know one thing for sure, they're all going on vacation on Friday," Fournier continued. "Meanwhile, the debt won't be taken care of. Meanwhile, they'll probably have raised taxes on us through our airline fees. That's a tax increase. They'll probably have cut pension to middle class people and veterans."
"It's just asinine," he concluded. "They're all going to pat themselves on the back on Friday and say what a great job they've done. This is absurd."
Watch the clip below via MSNBC:
[Photo via screen grab ]
— —
> >Follow Noah Rothman (@NoahCRothman) on Twitter
Have a tip we should know? tips@mediaite.com