White House Slams Pulitzer Winner's Allegation It 'Cherrypicked' Evidence Against Syria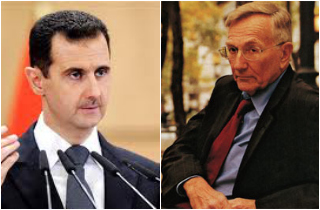 The White House denied allegations from Pulitzer Prize-winning journalist Seymour Hersh that it "cherrypicked" data to make the case against Syrian President Bashar al-Assad's use of chemical weapons.
Hersh published the charge in the London Review of Books on Sunday:
Barack Obama did not tell the whole story this autumn when he tried to make the case that Bashar al-Assad was responsible for the chemical weapons attack near Damascus on 21 August. In some instances, he omitted important intelligence, and in others he presented assumptions as facts. Most significant, he failed to acknowledge something known to the US intelligence community: that the Syrian army is not the only party in the country's civil war with access to sarin, the nerve agent that a UN study concluded – without assessing responsibility – had been used in the rocket attack.
Spokesman for the Director of National Intelligence Shawn Turner denied the allegation to The Hill. "The intelligence clearly indicated that the Assad regime and only the Assad regime could have been responsible for the 21 August chemical weapons attack," Turner said. "The suggestion that there was an effort to suppress intelligence about a nonexistent alternative explanation is simply false."
POLITICO's Dylan Byers reported Monday morning that the New Yorker—Hersh's normal outlet—and the Washington Post had both passed on the story, with WaPo objecting to the piece's sourcing.
Hersh's legendary four-decade career in journalism began when he received the Pulitzer for uncovering the My Lai massacre. He most recently made news when he excoriated his own industry for going easy on the Obama administration. (He also intimated that the United States had in some way doctored the story of Osama bin Laden's assassination, though this was later walked back.)
[Image via screengrab]
——
>> Follow Evan McMurry (@evanmcmurry) on Twitter
Have a tip we should know? tips@mediaite.com