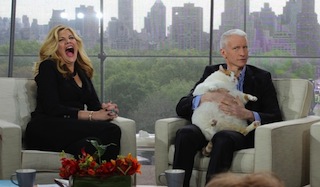 Well, if you weren't sad enough already that it was Monday, here's some news that will really put you over the edge. Just one week ago, Anderson Cooper introduced us to Meow, a 37-pound cat from Santa Fe that was looking for a home and trying to get healthy. Unfortunately, it looks like becoming a television star and Internet viral sensation was the last thing Meow got to do. He died on Saturday due to respiratory problems.
RELATED: Here's That Video Of Anderson Cooper Attempting To Carry A 37-Pound Cat You Asked For
The Santa Fe Animal Shelter & Humane Society posted the news on their Facebook page this morning:
"Dear Friends,
I am devastated to share with you that the respiratory distress that Meow was experiencing last week (the reason we did not do his weigh-in) took his life at 4:30 p.m. on Saturday, May 5. The Shelter staff – along with all those who met Meow during his short time with us – mourn his passing. As many of you are aware, Meow began wheezing last Thursday in his foster home, Dr. Jen began trying to sort out the problem, at first considering the possibility of asthma associated with his weight. She started treatment immediately to ease his breathing and, when Meow didn't improve, she sought additional help for him from our emergency specialty hospital and an additional private veterinary hospital. Although four different veterinarians worked with Meow, we were unable to stop the progression of what turned out to be pulmonary failure. Meow had been doing so well in his foster home; walking up stairs and seeking affection – that it is so very hard to believe he is gone. We will forever be grateful for the attention Meow's size brought to pet obesity and to animal shelters across the country. We are especially grateful to all of you who fell in love with this charming cat – as we did – and were so very interested in his progress and success. With gratitude, Mary Martin"
This is a real bummer. The whole situation had been like one of those heartwarming animal movies they made in the 90s. You know the ones. Where the animal makes a bunch of wacky messes but then finds a new family that loves him and helps a kid get over his parents' divorce or something. The animal's not supposed to die in the end. That only happens in heartwarming animal movies from the 50s. You know, the ones where the animal makes a bunch of wacky messes, finds a new family that loves him, and then gets rabies and is shot to death.
With this and the bear who fell out of the tree getting hit by a car, I am officially no longer going to fall in love with any Internet-famous animals.
Next thing, someone will be telling me Keyboard Cat got electrocuted.
In tribute, here's the original Anderson clip:
(h/t Phillip Bump)
Have a tip we should know? tips@mediaite.com