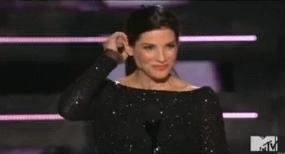 In her most public appearance since the Jesse James story broke, Sandra Bullock accepted the Generation Award (a lifetime achievement award) at tonight's MTV Movie Awards.
She received the largest standing ovation of the night, joked about how expensive therapy has been and kissed Scarlett Johansson.
Bradley Cooper and Betty White each gave lengthy speeches honoring Bullock before a video montage of her movies played and she took the stage. Johansson was there too – but silent until Bullock asked what she was doing on stage. It led to a kiss between the two (an MTV Movie Awards regular occurrence).
But the main part of her speech were veiled references to her life in the spotlight the last few months. She listed lessons she's learned (like "whoever established the high road and how high it's going to be should be fired" and asked if it was ok to "go back to normal." "Because therapy is really expensive," she said.
Bullock also promised that the attention will not keep her from continuing her work:
The generation award – is that an award for old people who have extended their welcome and we should make nice and leave so someone new can come in? Because that's not going to happen. I'm staying. No matter what you might have seen, or heard, or read lately, I love what I do, and I'm not going anywhere.
She closed her speech changing the focus to the Gulf Coast: "When we all go to bed at night we should think about all the people that are being affected in the Gulf and just say a prayer for them."
Check it out:

—–
» Follow Steve Krakauer on Twitter
Have a tip we should know? tips@mediaite.com