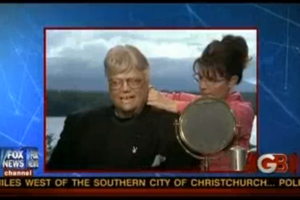 For people that disagree with her views, it's often hard to understand what could possibly be Sarah Palin's appeal to so many people. Well, here is clear proof of why: When Vietnam veteran Dave Roever found himself in Wasilla, Alaska with no TV equipment to make his appearance with Glenn Beck, Palin offered both her studio and her personal make-up artist services free of charge.
Think of it as the political opposite of the John Edwards hair-fiddling tape: here is Palin, a global superstar at this point, doing the makeup of a Glenn Beck guest and proffering her studio to help her pals out– the show must go on, after all. She doesn't say a word in the clip, nor does she look like she is wearing any make-up (her hair might even be at the reasonably messy level most people's is when they're not on TV!). The message: Sarah is a team player.
Contrast this to the message about Palin we've been getting the rest of the week, especially from that scathing Vanity Fair profile, and it's starting to become increasingly difficult as we approach November to tell apart the real Palin from the smear campaigns, or the real Palin from the propaganda. But it also means the entertainment value of all three are increasingly exponentially, and if Palin continues to crank out apolitical and light-hearted moments like this one, she'll only make it harder for those on the left to continue to find her irritating and noxious.
Video from yesterday's Glenn Beck program via Fox News below:

Have a tip we should know? tips@mediaite.com