Joe Scarborough and Media Matters' David Brock Spar Over Hillary Clinton's Email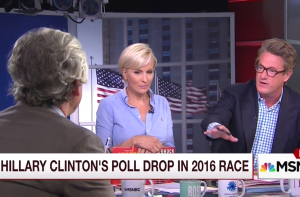 Media Matters for America founder David Brock and MSNBC's Joe Scarborough battled Monday morning about whether or not Hillary Clinton's use of private email was acceptable during her State Department tenure.
Brock continued to attack The New York Times for reporting on the various Clinton scandals– or as he put it, pushing "nothingburgers"– and blamed Clinton's poor poll numbers on "a relentless campaign of distortion that's gone on for six months."
"I try to predict a lot of your Republican playbook," he said. "But six months ago, I wouldn't have thought we would still be here talking about her emails."
"It's not a Republican playbook," Scarborough said. "That's the thing. You say it's a nothingburger. If you say it's a nothingburger, you attack the New York Times and the FBI as well. Do you think the FBI is on a witch-hunt against Hillary Clinton?"
"Hillary will come out and say things that just aren't true," he continued. "She says, 'Gee, I'm not breaking any rules.' You did, there was a 2009 regulation– you talk to the Obama administration…"
But Brock began to interrupt to say she never broke the rules. "When you're disagreeing with that, understand you're also disagreeing with people in the Obama administration that put the regulations out there that tell us she break the rules," Scarborough said.
"The Department of Justice did a legal filing Wednesday…" Brock responded. "They looked at this and said two things. one, it was entirely appropriate that every government employee makes the decision themselves about what's a work related email and personal email…. They said the deletion was appropriate, they said there was no question about it."
"You're fine then if Dick Cheney is appointed by Jeb Bush as Secretary of War, decides he's going to have his server in his home in McLean, and then before the investigators come he just destroys it. Is that fine?" asked Scarborough.
"Destroys personal email? Yeah, that's fine," Brock said.
"No, I'm talking about destroying the server, so you will never be able to know what he decided was personal and what had to with war," he said.
That led to a heated argument about whether or not Clinton was forbidden from hosting her email on a private server. "That is a matter of fact. That's just a matter of fact. You're not even entitled to that," Scarborough shouted.
The two continued on this way for another two minutes before co-host Mika Brzezinski was forced to cut the pair off so the show could go to break.
Watch, via MSNBC.
[Image via screengrab]
——
>>Follow Alex Griswold (@HashtagGriswold) on Twitter
Have a tip we should know? [email protected]