Scarborough: Conservative Bloggers Criticized Cliven Bundy Before GOP Politicians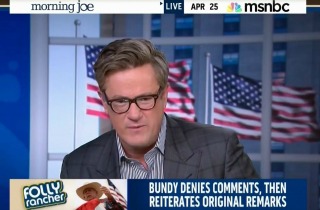 On Friday, MSNBC host Joe Scarborough observed that a strange condition developed around the issues raised by Nevada rancher Cliven Bundy regarding his case against the Bureau of Land Management. The MSNBC host said that the "usual suspects," grassroots conservative commentators in the media, was more critical of Bundy's case than were Republican politicians prior to the controversial rancher's racially insensitive remarks.

"What's interesting, though, is the way some people who supported him on the issue of the land grazing, including some very prominent United States Senators, not fringe people, ran for the exits yesterday," NBC's Willie Geist said.
RELATED: Bundy: If People Were Offended by 'Negro,' Then MLK 'Hasn't Got His Job Done Yet'
"I think this is what's most disappointing," Scarborough added, "there were a lot of politicians that ran to his defense, and the people who are supposed to be the usual suspects – people on TV, people on radio, bloggers, prominent conservative bloggers – were actually the ones, like I said yesterday [RedState's] Erick Erickson, said, 'Okay, maybe I don't understand something here, but is he actually paying for the right to graze on that land?'"
He noted that Erickson observed that it would be "socialism" for Bundy to argue that the federal government's legal right to the property in question was illegitimate.
"And, you know, Glenn Beck was very harsh against this guy from the very beginning," Scarborough continued. "But you have prominent United States Senators and other prominent officials who actually came out early on and called this guy a hero."
Watch the clip below via MSNBC:
[screengrab]
— —
>> Follow Noah Rothman (@NoahCRothman) on Twitter
Have a tip we should know? tips@mediaite.com