Schieffer Scolds Obama and Bibi: Put Aside Pettiness and Repair U.S.-Israel Relations Now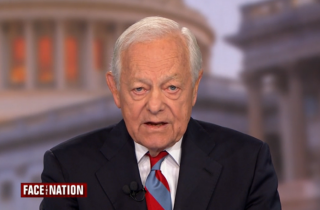 For his commentary segment on Sunday's Face the Nation, Bob Schieffer essentially imagined himself as the dad knocking his two kids' heads together and telling them to make nice and go play together on the jungle gym.
The two dirt-covered boys he's scolding? President Barack Obama and Israeli PM Benjamin Netanyahu.
"So the prime minister of Israel doesn't like the president, and has decided that dealing with this administration is no walk in the park," the CBS host began. "I get that. There are some in Washington, including some Democrats, who feel the same way."
But Netanyahu also hurt Obama's feelings by speaking before Congress earlier this month. "I get that, too," mediator Schieffer said. "It was not just rude but disrespectful to the office."
Bibi's "blindsiding" of Obama by reversing course on a two-state solution also hurt the president's feelings, Schieffer continued, but that doesn't mean the administration should have responded with "pointed, even snarky skepticism, as if they wanted to keep the public fight going."
And after heads were officially knocked, the Face the Nation moderator delivered his "now hug and make up" demands:
There have been hard-to-take insults from both sides, but the relationship between Israel and America is unique. And Israel is the only true democracy in that part of the world. We need Israel and Israel needs us. It's time to stop the back-and-forth and repair the alliance quietly. Nothing makes America and Israel's enemies happier than believing the relationship between Israel and America is unraveling. And right now they have to wonder.
Watch below, via CBS:
— —
Have a tip we should know? tips@mediaite.com