Schultz Goes Off on Koch Group: 'You Bastards, Don't Talk to Me About Cancer and Women'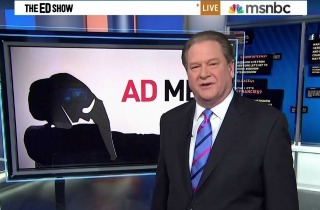 On Tuesday, MSNBC host Ed Schultz accused the Koch Brothers'-backed group Americans for Prosperity of airing an ad that makes a series of factually inaccurate statements about the Affordable Care Act and misleads about a woman who is battling cancer. AFP provided Schultz with a statement upon request which defends many of the claims made in that ad. "You bastards," Schultz said in response to the statement. "Don't talk to me about cancer and women."

Schultz went after AFP and a cancer survivor named Julie Boonstra who is featured in an ad which claims the ACA forced her to give up her old health plan. Schultz cited fact checking performed by The Washington Post which put many of the claims made in that ad into doubt.
"I'd say the claim that Obamacare is unaffordable is a flat out lie," Schultz said. "She's been used."
Schultz did concede that Boonstra's old health plan was cancelled because it was "junk insurance" and did not meet the federal coverage requirements mandated by the ACA. He also conceded that Boonstra probably did, as she claims, have a difficult time accessing the federal insurance exchange portal. "But those problems have been solved," Schultz added.
He revealed that AFP provided his program with a statement aimed at addressing Schultz's concerns. "Despite the claims of TV personalities or self-appointed fact checkers, Obamacare has made Julie Boonstra's fight with leukemia harder, not easier," the statement read.
"It sounds to me like TV personalities, whoever they're talking about, are getting a lecture from Americans for Prosperity," Schultz asserted. "You bastards, don't talk to me about cancer and women. Don't do that. That's not good. Our family, my wife, has walked the walk."
Watch the clip below, via MSNBC:
[Photo via screen grab]
— —
> >Follow Noah Rothman (@NoahCRothman) on Twitter
Have a tip we should know? tips@mediaite.com