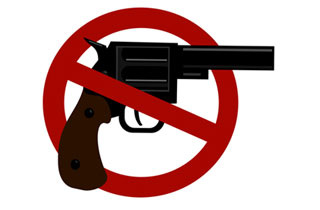 St. Patrick's Day seems to be a great time to put up angry signs. (Is it a weird, old Irish stereotype, like calling someone a Papist?) In any case, one pub owner in South Carolina got into the angry spirit by posting a sign barring concealed weapons from his establishment — with some caveats:
Check out this sign hanging at a #Clemson, #SC pub!! #fineprint #concealedweapons pic.twitter.com/lkuDWppwyT

— Cody Alcorn (@CodyAlcorn) March 18, 2014
The sign, hung at Clemson's Backstreets Pub and Deli, quickly went viral among gun enthusiasts and Second Amendment acolytes, who decided to exact revenge the best way they knew how: Shooting the guy down…on Yelp!. Currently, the bar has a one-and-a-half star rating, with nearly 300 reviews. Gawker points out, however, that most of them seem somewhat illegitimate:
Before this morning, Backstreets had three Yelp reviews that averaged three out of five stars. Today, it got nearly 300 reviews from pro-gun nuts who either ventured cross-country to try the wings in Clemson, vomited, found the place unsafe and were driven to comment on Yelp for the very first time… or simply made some shit up to justify driving the joint's rating down to one star.

"Food sucks, over priced. Owners a blatant liberal idiot that uses the eatablishment as a cover for his meth lab in the back," one classy guy who apparently trekked all the way from Oregon writes. "I hope this business fails and the owner commits suicide."
It is actually legal to carry a concealed weapon into a bar or restaurant in South Carolina, though business owners are allowed to implement their own weapons ban. As the owner of this bar just learned, however, this might be a poor decision.
[h/t Gawker]
— —
>> Follow Tina Nguyen (@Tina_Nguyen) on Twitter
Have a tip we should know? [email protected]