Sean Hannity Laments Lost Civility Amongst Competing Cable Hosts To Larry King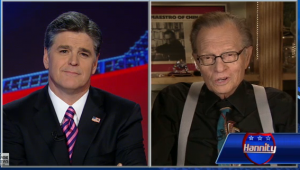 Former cable television time slot rivals Larry King and Sean Hannity met last tonight on Fox News and the big revelation was just how great the relationship is between the two of them. Hannity praised King for his "profound impact" on culture and the political debate, while King looked forward to having Hannity in the audience for his touring comedy show.
Hannity cherished the respectful relationship he shared with King throughout the many years they were competitors, saying:
"We work – let's be honest – in a world where there are a lot of people that we may describe as maybe narcissistic or egotistical somewhat. In all the years that we competed together – and I never viewed you as anything but somebody that I admired and respected, you're a class act. There was never a negative word that I can recall between us, and you know, I think that's kind of rare today."
King agreed and said since he liked the broadcasting business so much, he never wanted to see another television host fail. They also discussed King's final show and how Hannity thought the funniest moment was former President Bill Clinton being part of the "zipper club." The term refers to open heart surgery patients, yet Hannity clearly enjoyed the possibility for other potential interpretations. King warned Hannity that one day he too will have to do his last show and said "if it's a Democratic President, you'll be crying." Hannity humorously responded, "I'm crying now Larry, forget about then."
Hannity clearly admires King immensely, and truly does seem to yearn for the days when civility amongst competing cable news hosts was not as rare as it is today.
Watch the clip from Fox News below:

Have a tip we should know? tips@mediaite.com