Sen. McConnell's Wife Elaine Chao Rips 'Left Wing' For Attacking Her With 'Racial Slurs' On Fox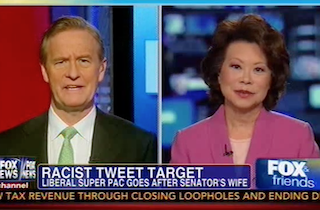 Last month, the super PAC Progress Kentucky took its opposition to Sen. Mitch McConnell's re-election one step further by bringing the senator's Asian-American wife, former Secretary of Labor Elaine Chao into the picture, remarking, "May explain why your job moved to China!" In a recent ad, she pushed back against the attack — and took to Fox & Friends on Friday to respond.
The remark in question came via a tweet by the super PAC, which read, "This woman has the ear of [Sen. McConnell]—she's his wife. May explain why your job moved to China!" This drew much criticism, and in a recent ad Chao decried "far-left special interests" for attacking her ethnicity and questioning McConnell's patriotism, noting that's "how low some people will stoop."
During the Fox segment, co-host Steve Doocy asked Chao to respond to the "racist" tweet.
"This is just the most recent example of this kind of behavior," Chao said. "There's a pattern to this kind of attack. Basically, Mitch's opponents, his left-wing opponents, can't defeat him on policy issues, and so they resort to racial slurs and questioning his patriotism because he's married to me."
Doocy was "astounded" by the lack of outrage of the remark, adding that, "If this were a Republican who made that sort of comment, it would be a great big story in The New York Times and everything else." To that end, he asked whether the super PAC's apology (they're committed to making sure it never happens again) was enough.
It's not a matter of just one volunteer leaving, Chao asserted, reiterating her point that the incident is representative of a pattern of attacks. "Kentucky is a conservative state, and Mitch, again, does a wonderful job representing his constituents," she added. "He's the most conservative Senate leader in history."
"They question his patriotism because he's married to me," Chao said. "I think that's pretty sad."
Take a look, via Fox News:

Have a tip we should know? tips@mediaite.com