GOP Sen. Rob Portman Reveals His Son Is Gay And He Now Supports Gay Marriage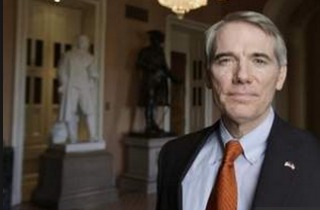 In an opinion piece published in The Columbus Dispatch on Friday, Sen. Rob Portman (R-OH) announced that he has had a change of heart regarding same-sex marriage. He announced that he now supports the opportunity for all people, gay or straight, to marry. Portman added that a variety of factors influenced his decision, but none more than the fact that his son is gay.

RELATED: Obama Adminstration Asks Supreme Court To Overturn California's Gay Marriage Ban
"As a congressman, and more recently as a senator, I opposed marriage for same-sex couples," Portman wrote. "Then something happened that led me to think through my position in a much deeper way."
Two years ago, my son Will, then a college freshman, told my wife, Jane, and me that he is gay. He said he'd known for some time, and that his sexual orientation wasn't something he chose; it was simply a part of who he is. Jane and I were proud of him for his honesty and courage. We were surprised to learn he is gay but knew he was still the same person he'd always been. The only difference was that now we had a more complete picture of the son we love.
Portman discusses in the op-ed how he reconciled his faith in the tradition of marriage with his desire to see his son lead a full and happy life. In the end, he came to understand that the Bible's "overarching themes" of love and compassion do not stand in opposition to same-sex marriage.
"Well-intentioned people can disagree on the question of marriage for gay couples, and maintaining religious freedom is as important as pursuing civil marriage rights," Portman notes. "One way to look at it is that gay couples' desire to marry doesn't amount to a threat but rather a tribute to marriage, and a potential source of renewed strength for the institution."
I've thought a great deal about this issue, and like millions of Americans in recent years, I've changed my mind on the question of marriage for same-sex couples. As we strive as a nation to form a more perfect union, I believe all of our sons and daughters ought to have the same opportunity to experience the joy and stability of marriage.
Read the full op-ed via The Columbus Dispatch
> >Follow Noah Rothman (@NoahCRothman) on Twitter
Have a tip we should know? tips@mediaite.com