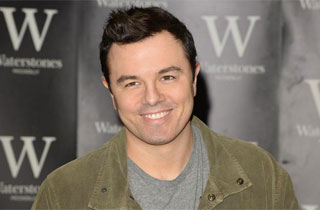 Family Guy is well known for using cutaway gags and pointed jests in order to lampoon public figures across the board. Seth MacFarlane, the show's creator, responded on Friday to questions regarding a clips that were widely shared in recent weeks following Caitlyn Jenner's transition to womanhood.
When Caitlyn Jenner revealed herself to the world in an interview with Diane Sawyer, people soon realized that Family Guy came close to the truth years before when they poked fun at Jenner's feminism.
While Caitlyn was still a man named Bruce, Stewie Griffin once called Jenner a woman, "an elegant, beautiful, Dutch woman." In another clip, the show made a more blatant point when they showed Jenner dancing provocatively for a group of sailors with a pink boa.
During a conference call to promote his new film, "Ted 2", MacFarlane took a moment to discuss political correctness in comedy, attributing most of the perceptions of outrage to media figures rather than the public audience. "Nobody sets out to offend or shock for the sake of shocking. You set out to get laughs," MacFarlane said.
"My philosophy is live and let live, and if something makes someone happy, and they're able to do it — as long as it isn't hurting anybody — live and let live."
When asked about the transgender issues and their relevance to the clips, MacFarlane refrained, saying that he was "too savvy to comment on the issue to the media." MacFarlane elaborated that he would be happy to discuss the issue after the outrage passes, but for now, he said that his words could and would be used against him. "Even though I'm on the side of support, you just got to play it safe because the climate is just too charged.
You can watch the Jenner references here, via Fox:
[h/t Huffington Post]
[Image via WENN.com]
— —
>> Follow Ken Meyer (@KenMeyer91) on Twitter
Have a tip we should know? tips@mediaite.com