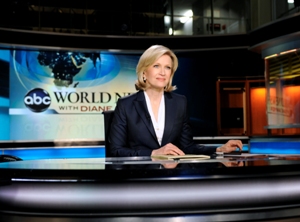 Diane Sawyer has been the anchor of ABC's World News for just over one week, and the first week ratings are in.
It's obviously very early, but here's a breakdown of the good, the bad and what the future may hold.
Sawyer's broadcast was up slightly week-to-week in total viewers and down slightly in the A25-54 demographic. Compared to the rest of the line-up, the difference between the three broadcasts was about the same. The NBC Nightly News with Brian Williams averaged 9,370,000 total viewers compared to 8,560,000 for ABC and 6,160,000 for the CBS Evening News with Katie Couric. In the demo, NBC led with 2,840,000, ABC was 2nd with 2,270,000 and CBS averaged 1,830,000. For Sawyer's first broadcast, the show was up significantly in total viewers, averaging 8,970,000. Last week also marked the largest total viewer advantage by ABC over 3rd place CBS in 11 months.
(One note: all three broadcast show ratings are based on a Monday-Wednesday average.)
Compared to Charlie Gibson's final week at the helm of World News, all three broadcasts had almost the exact same ratings in both categories. But when looking at the week prior, when it was no one's last or first, all three broadcasts were way up. And compared to the same week last year, NBC was up in 2009 while the other programs declined significantly in both categories.
Still, it's hard to get a good gauge on how the ratings will eventually settle because of the time of the year. This was done purposely by ABC – they wanted a low-key launch, and they certainly got it. Like Good Morning America getting used to George Stephanopoulos on the couch, any improvement (or decline), will take months to see. We know that Sawyer's presence didn't cause the ratings to crater – but it didn't exactly show an immediate increase either.
As we enter 2010, we'll have a better idea about how Sawyer's approach to the broadcast impacts Williams and Couric, if at all.
—–
» Follow Steve Krakauer on Twitter
Have a tip we should know? tips@mediaite.com