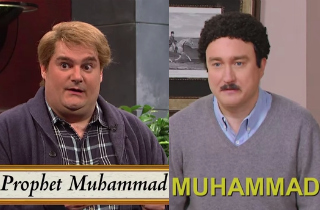 No sketch from this past week's Saturday Night Live episode garnered more attention than the one in which contestants on a faux-game show called "Picture Perfect" were asked to draw the Prophet Muhammad and then had to deal with the awkward consequences.
The bit even got some rare praise from conservative commentators like Erick Erickson, who called it "a perfectly humorous way to point out the absurdity of radical Islam's refusal to let people draw" their prophet" in the aftermath of last week's shooting at a Garland, Texas "Draw Muhammad" cartoon contest.
But now, viewers of the Canadian satire show This Hour Has 22 Minutes have begun to point out the striking parallels with a sketch that ran on that program back in January following the attack on Charlie Hebdo in Paris. CBC, which produces the show, even called out the similarities in an article Monday afternoon.
"I don't think I can," the character played Bobby Moynihan says in the SNL version after the clue reading "The Prophet Muhammad" appears on the screen below him before trying to pass.
In the CBC sketch, the character played by Mark Critch tells the show's host, portrayed by Shaun Majumder, "Please don't make me do this" and asks, "Am I allowed to pass?"
Both sketches end with the character's wife guessing the clue based solely on the fact that their husbands refused to draw it.
When someone pointed out the apparent "rip off" to Majumder, he replied first with a joke and then with a dismissal:
@TheOnlyFeed @UPROXX Wow if only we could steal some of their budget. #GreatMindsThinkAlike @22_Minutes @markcritch http://t.co/euTxKyevUY

— Shaun Majumder (@shaunmajumder) May 11, 2015
@TheOnlyFeed @SoundsLikeJoel @UPROXX I think both pieces are important satirical comedy with two different audiences.

— Shaun Majumder (@shaunmajumder) May 11, 2015
Meanwhile, Critch just tweeted out some articles that highlighted the similarities.
Of course, this is not the first time SNL has been accused of stealing material in its forty-plus year history. Last fall saw members of the Groundlings claiming the show ripped off its Tina Turner sketch and back in 2010 fans noticed some notable parallels between a sketch about tiny hats and a classic bit from Tim and Eric Awesome Show, Great Job!
Watch the SNL sketch below, via NBC:
And then watch the CBC version below to see just how similar they are:
[Photo via screengrab]
— —
>> Follow Matt Wilstein (@TheMattWilstein) on Twitter
Have a tip we should know? tips@mediaite.com