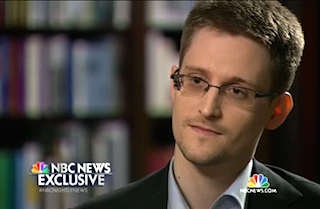 On Tuesday's NBC Nightly News, Brian Williams aired the first excerpts from his exclusive interview with former NSA contractor Edward Snowden. In the clip, Snowden described himself as a 21st-century "spy," who has more experience and expertise than the U.S. government has led people to believe.
"I am a technical expert. I don't work with people. I don't recruit agents. What I do is I put systems to work for the United States," Snowden said, using the present tense despite the fact that he has been living in exile in Russia after leaking classified documents. "And I've done that at all levels from the bottom on the ground all the way to the top."
When government officials describe him as nothing more than a "low-level analyst," he said that are "trying to use one position that I've had in a career here or there to distract from the totality of my experience." Snowden explained that he has worked for both the CIA and NSA "undercover overseas" as well as for the Defense Intelligence Agency.
"So, when they say I'm a low-level systems administrator, that I don't know what I'm talking about, I'd say it's somewhat misleading," he concluded.
Following the excerpt from the longer interview, correspondent Andrea Mitchell delivered a report that demonstrated Snowden's enormous impact on the U.S. intelligence community. Williams' full interview with Snowden will air on NBC tomorrow night, Wednesday, May 28 at 10 p.m. ET.
Watch video below, via NBC:
[Photo via screengrab]
— —
>> Follow Matt Wilstein (@TheMattWilstein) on Twitter
Have a tip we should know? tips@mediaite.com