Soledad O'Brien To Former RNC Chair: Do Minorities Not Know You, Or Do They Just Not Like You?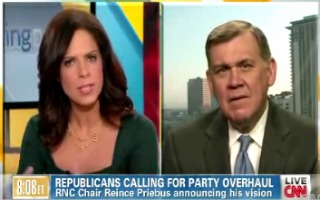 CNN anchor Soledad O'Brien grilled former Republican National Committee Chairman Mel Martinez on her program on Friday regarding the GOP's renewed efforts to appeal to minority voters. Martinez was asked about one South Carolina RNC delegate who claimed that minority voters "simply don't know us." O'Brien asked Martinez if he agreed with that assessment or, she said, is it possible minority voters really did know the Republican Party and "decided they don't like you?"

RELATED: Soledad O'Brien Takes On Gun Advocate Over Assault Weapons Ban: Why Are You Against Policy That 'Does Work'?
O'Brien asked Martinez about a speech given by Louisiana Gov. Bobby Jindal who scolded the handful of Republican candidates who tarnished the GOP's brand last cycle when they said controversial statements that offended minorities and women. She asked how the GOP's rebranding effort is progressing.
"Well, I think first of all, it's a great reassessment taking place within the party and I think it's very, very healthy," Martinez replied. "I'm really quite encouraged, not only by the website and the fact we're reaching out to people to input because I think we've lost the ability to communicate well and I think that's a beginning."
O'Brien read a statement from a Palmetto State RNC delegate and published in the Wall Street Journal in which he laments the fact that the Republican Party's platform is relatively unknown to minority voters.
"In many ways, we're at square one," the delegate told WSJ. "There are large portions of the population — African-Americans, Hispanics, Asians, young voters — who simply don't know us."
"Is it that they don't know you? Meaning you as the GOP," O'Brien asked Martinez. "Or is that they know you and they decided they don't like you?"
"Look, I think there's a communication gap and I think that our party has done a poor job reaching out to these particular groups," replied Martinez.
"I don't think you change principles, but I think you change the conversation," Martinez added. "We shouldn't be talking about protecting the wealthy from raising taxes. We should be talking about a tax code that promotes economic growth, and that lifts all boats."
Watch the exchange below via CNN:
h/t Crooks And Liars
> >Follow Noah Rothman (@NoahCRothman) on Twitter
Have a tip we should know? tips@mediaite.com