'Sorry, You're Not Answering the Question!': Tapper Grills Pence on Michael Flynn's Son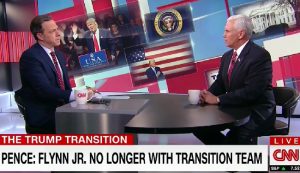 During an interview on CNN this afternoon, host Jake Tapper continuously pressed Vice-President-elect Mike Pence on the role Michael G. Flynn had with the Trump transition team and if he was given a security clearance.
Earlier today, Pence was on Morning Joe when he stated that Flynn, son of incoming National Security Adviser Michael Flynn, had "no involvement in the transition whatsoever." The younger Flynn has come under fire over the revelation that he's shared numerous conspiracy theories and fake news stories via Twitter, including the notorious #Pizzagate one. After a man was arrested for assault with a deadly weapon in relation to the crazed story, Michael G. Flynn defended #Pizzagate online.
Until #Pizzagate proven to be false, it'll remain a story. The left seems to forget #PodestaEmails and the many "coincidences" tied to it. https://t.co/8HA9y30Yfp

— Michael G Flynn?? (@mflynnJR) December 5, 2016
Speaking to Tapper, Pence admitted that his earlier statement about Flynn not having a role with the transition team wasn't exactly true.
"I said this morning that his son had no involvement in the transition, but i have talked to General Flynn," Pence said. "His son was helping him a bit with scheduling and administrative items. But that's no longer the case."
Tapper accused Pence of "downplaying" the younger Flynn's role. "You must be aware that the transition team put in for security clearance for Michael G. Flynn, the son of Lieutenant General Flynn," the CNN host stated.
Pence merely answered that he was aware that he was helping his dad with scheduling, leading Tapper to ask the VP-elect several times if he had security clearance being that Pence is in charge of the transition effort.
This led to Pence saying that it was time to "move forward." Tapper responded that he would like to but he wanted to know if Pence was aware that the transition had put in for a security clearance for" Michael G. Flynn. After another non-answer, and another attempt by Tapper, Pence then claimed that this was all a distration that "the national media likes to chase after."
"Sorry, you're not answering the question," Tapper persisted. "Which is were you aware that the transition team had put in for a security clearance? This is a young man who had a social media profile with all sorts of crazy conspiracy theories, all sorts of links and retweets with white supremacists. Were you aware that the transition team put in for a security clearance for him?"
Pence eventually said that Flynn received "what was needed in that regard to take place" as far as scheduling meetings and Tapper decided to move on.
Watch the exchange above, via CNN.
[image via screengrab]
–
Follow Justin Baragona on Twitter: @justinbaragona
Have a tip we should know? tips@mediaite.com