Press Secretary Contender Laura Ingraham: ABC, NBC, WaPo are 'Worse Than Irrelevant'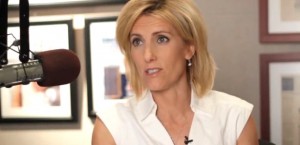 Laura Ingraham, who is reportedly among the leading contenders to be tapped as the new White House Press Secretary, apparently does not think too much many of the outlets she'd be dealing with in the briefing room.
In an interview with Politico, the conservative radio host praised "new media" outlets for their coverage of topics she claims have gotten less play in mainstream circles, and went on to say that several major media organizations "are worse than irrelevant."
"New media has spent enormous time and resources covering Benghazi, the FBI investigation, Wikileaks, Planned Parenthood and the corrupt Justice Department," Ingraham told Politico. "None of these things and others would have come to light without the New Media. ABC, NBC, the Washington Post are worse than irrelevant. We now must make fun of them."
Ingraham, who was scheduled to meet with President-elect Donald Trump on Tuesday, told Politico that she feels the new media outlets stand to become more influential going forward.
"The power will continue to move toward the new media and away from the corrupt consultants who have only a track record of failure but are prominently featured by more liberal established 'news' outlets that are overwhelmingly viewed as biased for Mrs. Clinton by 85 percent of Americans in this election season," she said.
As for the more traditional outlets, Ingraham said that she believes their transition coverage has not been objective.
"I think most Americans know there is not going to be an objective attempt to cover — at least this period of the Trump transition," Ingraham said during an appearance on Fox & Friends. "And I think we're going to see more of that same type of coverage going forward. Eyes wide open."
[image via screengrab]
–
Follow Joe DePaolo (@joe_depaolo) on Twitter
Have a tip we should know? tips@mediaite.com
Joe DePaolo - Senior Editor