Stelter Tears into #PointerGate TV Station: 'They Were Just Pointing at Each Other!'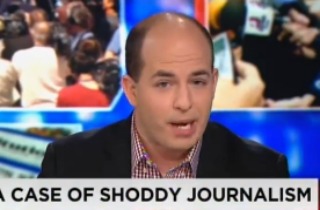 Reliable Sources host Brian Stelter blasted the "shoddy journalism" of Minneapolis-based TV station KSTP which was the first (and only) station to report that the mayor was apparently flashing a gang sign while posing for a picture with a convicted criminal — a now-debunked story.
Stelter said "PointerGate" shouldn't have even been a story at all and it was "obvious" that the two were just pointing at each other. He also said the real story is about how the mayor and the police seem to be "at war," and he featured a few tweets making fun of the situation.
Errol Lewis, a NY1 reporter, likened the reporting to "comedy" and a "Dave Chappelle skit come back to life." CNN regular Marc Lamont Hill tackled the issue of race, and whether there were any racial connotations. Hill said the story was just "too easy to believe," and compared it to a similar incident that happened in Ferguson over the summer.
Lewis said the viewers' trust is "broken" because the station keeps doubling down on their reporting, and refuses to back down. All agreed that the station should apologize.
The story garnered so much social media attention that Jon Stewart even poked fun at it.
Watch below, via CNN:
And you can watch KSTP's original report here:
[Image via screengrab]
— —
>>Follow Andrew Desiderio (@forza_desiderio) on Twitter
[Note: Mediaite intern Andrew Desiderio is a student at The George Washington University.]
Have a tip we should know? tips@mediaite.com