Stephanopoulos' Wife Ali Wentworth Appears On GMA, Tells Embarrassing Stories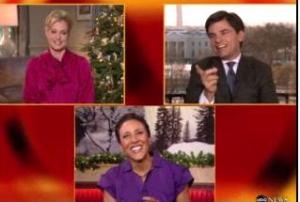 George Stephanopoulos made his first appearance with his wife today since he took over on Good Morning America.
Ali Wentworth, who stars in the movie It's Complicated, was interviewed by Robin Roberts, but her new co-host was there listening in while Wentworth revealed some personal secrets never before heard while Stephanopoulos was on This Week.
After talking about the new movie, the conversation drifted to Wentworth's relationship with Stephanopoulos. "I'm the more serious, introverted one and George is a little wacky and off the cuff," joked Wentworth. Then she talked about when they first met, on a blind date: "I, of course knew who he was, and wasn't interested."
Then it was time for the real roast. "Tell us something we don't know about George," said Roberts, while Stephanopoulos said "…or not."
Here's some things you didn't know about Stephanopoulos: "He sleeps in his boxers and tie" and "He cried at the end of the movie Enchanted."
Stephanopoulos was a good sport the entire time. In reality, it is moments like this, where he can basically laugh along without jumping headfirst into the fray himself, that will help establish him as a morning news anchor. His fans at This Week may cringe a bit for now – although he still is conducting newsmaking interviews, like with Treasury Secretary Tim Geithner – but he has to be able to float between roles to ultimately be viewed as a success. Diane Sawyer was able to do it – and now she's anchoring World News.
Here's the interview from this morning:


—–
» Follow Steve Krakauer on Twitter
Have a tip we should know? tips@mediaite.com