Stewart Challenges Ayaan Hirsi Ali: How Is Islam 'Different' than Any Other Religion?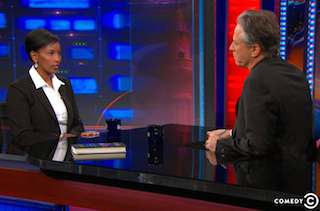 Ayaan Hirsi Ali, whose new book Heretic: Why Islam Needs a Reformation Now
was released today, visited The Daily Show Monday night. And while she was there, host Jon Stewart challenged her assertions that Islam is fundamentally different than the world's other major religions.
"Aren't we having the reformation now?" Stewart asked Hirsi Ali, pointing out that Martin Luther's Christian Reformation aimed to "purify" that religion, leading to "a hundred years of violence in mayhem," in much the same way groups like ISIS believe they are "purifying" Islam through their brutal interpretation of the Koran.
"I think people single out Islam as though there is something inherently wrong with it that wasn't wrong with other religions," Stewart added. "If Christianity went through almost the exact same process," he said, why does she believe Islam is "different" from other religions?
According to Hirsi Ali, the difference is that in modern times, as she sees it, most Christians, at least in the Western world, have "accepted tolerance and the secular state, the separate of church and state, respect for women, respect for gays." Stewart questioned how true that statement really is, but agreed with his guest that "the majority of Christians, unlike the majority of Muslims, are not subjected to violence" on a regular basis today.
Hirsi Ali told Stewart she is arguing for Muslims to accept that the Koran was "written by man a long time ago and that the morality of the 7th century doesn't apply in the 21st century." At least on the second part of that statement both Hirsi Ali and Stewart could agree that Christianity has reached that point while Islam has not.
Watch video below, via Comedy Central:
[Photo via screengrab]
— —
>> Follow Matt Wilstein (@TheMattWilstein) on Twitter
Have a tip we should know? [email protected]