Stewart to Ex-RT Reporter: WH Uses 'Methods of Intimidation' to Pressure Media Here Too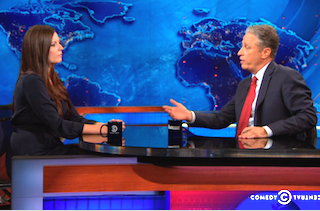 The day after Malaysia Airlines Flight 17 was shot down over Ukraine, Sara Firth became the latest in an increasingly long line of correspondents to exit RT, the Kremlin-owned media outlet that delivers Russia's message to the West. On Tuesday night, she sat down with Jon Stewart on The Daily Show to explain her decision.
"It had been a really long time coming," Firth told Stewart, saying she long felt RT was reporting stories in the "wrong way," but the way the network reacted to the plane crash was the last straw. She said she and her colleagues "jokingly" called the editorial heart of the network the "Ministry of Fear," whose "default setting" is that nothing is "Russia's fault."
RELATED: RT Responds to Quitting Reporter: 'Apparently We Have Different Versions of the Truth'
"It's difficult because in this country truth is all that matters to our news networks," Stewart said to laughs from the audience, "and to see you struggle with that it really shows me just how different Russia is." Comparing the situation at RT to the media in the U.S., Stewart said the White House "pressures news organizations consistently." And "there are methods of intimidation, maybe subtle, that they use."
Perhaps referring to networks like Fox News or MSNBC, Stewart said there are those media organizations "that just promote their own agenda and if truth happens to be a part of it, gee, what a nice bonus."
Firth pushed back on that assessment, saying she might just be "idealistic" but believes it's "wrong" for the media to operate in that way. "There is still a big difference between a truth and a lie," she said, "and I don't think you should ever, ever work to an agenda that's counter completely to the truth." She added, "The truth is still the truth and I think we need to remember that."
"So you're going to leave the news business then?" Stewart joked.
Watch video below, via Comedy Central:
[Photo via screengrab]
— —
>> Follow Matt Wilstein (@TheMattWilstein) on Twitter
Have a tip we should know? tips@mediaite.com