Stewart Torches Rupert Murdoch For Trying To Get Around Media Monopoly Laws 'Created With Him In Mind'
Stewart Torches Rupert Murdoch For Trying To Get Around Media Monopoly Laws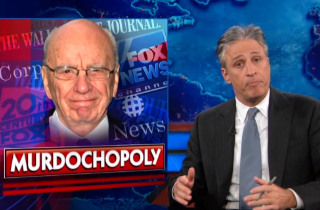 On The Daily Show last night, Jon Stewart ripped into Rupert Murdoch for the media mogul's recent attempt to buy the Los Angeles Times by petitioning the government to circumvent the media consolidation laws that "were created with him in mind."
Murdoch currently owns two television stations in the Los Angeles area. Adding the LA Times to his portfolio would violate a federal law that bars him from owning a newspaper in that region because of his ownership of the two networks.
And so Murdoch has petitioned for circumvention of the law. In the interest of giving him "a fair hearing," Stewart played the role of an interviewer, asking how Murdoch's previous newspaper ventures worked out.
Cut to: news footage of the News of the World voicemail hacking and "rampant lawbreaking."
"And now you would like a waiver to have another whack at a newspaper," Stewart laughed.
"Just out of curiosity, are the type of newspaper owner that interferes with editorial policy?" the comedian then asked.
"Oh yes, if necessary," a much younger Murdoch responded via archive footage.
"We obviously want to say yes to you," Stewart said, "but we do need your assurance that you would never use this extraordinary media reach of television stations and newspapers to change the political agenda, throw an election, that sort of thing."
The show then played several clips of Murdoch claiming his papers have singlehandedly won elections and changed the debate.
"We're going to have to decline your waiver, unfortunately," Stewart remarked. "See, the media consolidation law was written with people like you in mind. Well, actually, you, in particular, because of how you like to do the exact thing the law was meant to prevent."
But, alas, as Stewart reminded his audience: Murdoch previously got the waiver in 1993 to buy The New York Post.
Watch below, via Comedy Central:
— —
>> Follow Andrew Kirell (@AndrewKirell) on Twitter
Have a tip we should know? tips@mediaite.com