Stossel Interviews FNC Primetime Hosts About First Jobs To Show Young People They Should Aim Lower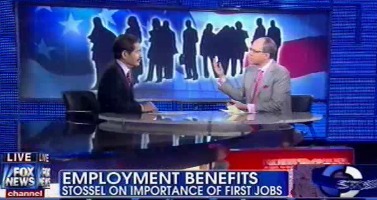 Fox Business Network host John Stossel appeared on Fox News Channel's Fox & Friends on Thursday to dispel the myth that there are almost no low or no experience jobs available. He also interviewed Fox News Channel's primetime hosts about their first jobs to show young people that they might have expectations that are preventing them from taking these kinds of jobs.

RELATED: John Stossel Panhandles To Prove 'You Really Shouldn't Give To These Street People'
Fill-in host Peter Johnson asked Stossel if young Americans were aiming too high. Stossel agreed and said that older people were also thinking that way too.
"Right outside the welfare office where people told us there were no jobs we found, within a couple hours, 40 jobs," said Stossel.
"Everybody had a first job," said Johnson. "I was a messenger. What did you do?"
"I worked on an assembly line," said Stossel. "I hated it. It was hot and boring. It taught me that I better get good grades in school so I might have some other alternatives."
Stossel interviewed the Fox prime time lineup about their first jobs to illustrate the point.
"I had the job of getting all the coins from the cash register and putting all the pennies in those paper rolls," said Greta Van Susteren. "It was dreadfully dull and I decided I had to have a job that was fascinating."
Sean Hannity said that the first job he had as a kid was "washing dishes Friday, Saturday and Sunday." He said that experience "taught me what hard work is." Hannity said he worked many jobs in the restaurant and construction industries before moving on to radio and television.
"My first job at 16 was working a Carvel ice cream stand out on Old Country Road in Westbury, Long Island," said Bill O'Reilly. "It taught me to show up on time." He said he got minimum wage but all the hot fudge sundaes he wanted.
Stossel returned to say that a mistake he thinks young people make is not being persistent. "Martha MacCallum talks about how she had to apply, apply, apply – pester them until she got the first job."
"Companies are disorganized," said Stossel. "They don't need anybody until they do."
Johnson asked Stossel about his opinion on minimum wage, which he opposes. Stossel said if the market set the wage, minimum wage earners would probably make more.
Watch the segment below via Fox News Channel:
> >Follow Noah Rothman (@Noah_C_Rothman) on Twitter
Have a tip we should know? tips@mediaite.com