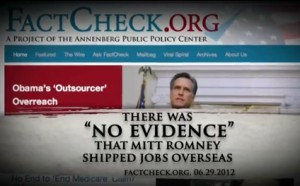 Former Massachusetts Gov. Mitt Romney's presidential campaign is out with a new ad today which relies on fact checks by The Washington Post and FactCheck.org to make the claim that there's "no evidence" Romney shipped jobs overseas. Those fact checks, in turn, rest heavily on Romney's claim that he had nothing to do with Bain Capital operations after Feb. of 2001, but new reporting by The Boston Globe shows Romney was at Bain until at least 2002.
Here's Romney's new ad, whose title is the oddly faint boast that there's "No Evidence," in part because Gov. Romney refuses to meet the disclosure standard set by his own father:
The ad also features a clip of then-Sen. Hillary Clinton complaining about then-Sen. Barack Obama's campaign mailers, and for extra irony points, one of those mailers was an attack on the individual health insurance mandate that Romney pioneered as Governor, but now attacks President Obama for.
That claim of "no evidence," though, was already undermined by public records and statements, and just in time for the ad's release, The Boston Globe reports on what FactCheck.og and The Washington Post's Glenn Kessler might call "lots if evidence," if they can get over their fact-checky obstinacy:
Romney has said he left Bain in 1999 to lead the winter Olympics in Salt Lake City, ending his role in the company. But public Securities and Exchange Commission documents filed later by Bain Capital state he remained the firm's "sole stockholder, chairman of the board, chief executive officer, and president."

Also, a Massachusetts financial disclosure form Romney filed in 2003 states that he still owned 100 percent of Bain Capital in 2002. And Romney's state financial disclosure forms indicate he earned at least $100,000 as a Bain "executive" in 2001 and 2002, separate from investment earnings.

…The Globe found nine SEC filings submitted by four different business entities after February 1999 that describe Romney as Bain Capital's boss; some show him with managerial control over five Bain Capital entities that were formed in January 2002, according to records in Delaware, where they were incorporated.
The Romney campaign's response was surprisingly candid:
A Romney campaign official, who requested anonymity to discuss the SEC filings, acknowledged that they "do not square with common sense." But SEC regulations are complicated and quirky, the official argued, and Romney's signature on some documents after his exit does not indicate active involvement in the firm.
Perhaps reporters (and voters) would be more inclined to give Gov. Romney the benefit of the doubt if he decided to disclose his tax returns dating back to his ostensible (retroactive) retirement from Bain Capital, which would put him just about in his late father's transparency ballpark.
As for FactCheck.org and WaPo's Kessler, it looks like they need to go back and re-check, before they end up in another Mitt Romney ad.
Follow Tommy Christopher (@TommyXtopher) on Twitter.
Have a tip we should know? tips@mediaite.com