Tavis Smiley On O'Reilly: Underreported Racial Assault In Virginia Is Reminiscent Of Trayvon Case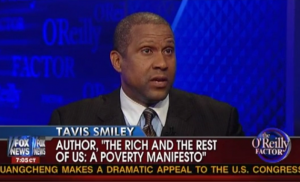 On Thursday, Bill O'Reilly followed up on the story he covered last night about a group of men assaulting two Virginian-Pilot reporters — and the paper's not writing about it until two weeks later. O'Reilly asked unanswered questions about the case, calling in Tavis Smiley to discuss it. Calling it "tragic," Smiley drew parallels between this incident and the Trayvon Martin case.
RELATED: O'Reilly Questions Why 'Racially Charged Mob' Assaulting White Couple Was Covered Up By Local Paper
Recounting the case — a group of around 100 black men attacked reporters Dave Forster and Marjon Rostami, who are both white, when they were driving home — O'Reilly added that, in the report, "a hate crime box is checked off," but "police now say that was a clerical error." Asked for the 911 tape, police said they'd decide tomorrow whether to release it. He then said he believes the Pilot's editor, Denis Findlay, "avoided covering the story because of its racial component. The paper simply tried to cover it up."
O'Reilly asked:
What would have happened if the mob of white men descended on a car and beat up a black man and a black woman? I don't have to say anymore. You know what would happen. Why is this case any different? Why isn't it getting national coverage? Why isn't the Justice Department on the scene with the federal presence? Those questions remain unanswered.
He then brought in Smiley, asking for his reaction. "It's a tragic moment," Smiley said. "You are right, we don't want any of our fellow citizens, never mind race, color and creed, to be subject to this kind of random violence."
Smiley then observed some similarities between this case and the Trayvon Martin case"
You have the issue of race obviously. Number two, you have a police department that bungled the investigation. Number three, when Trayvon Martin's case the media, the mainstream media took a long time to get on that story. Were it not for the black media they never would have covered it, and now you raise questions about a cover up in this story. These cases aren't as dissimilar except for the fact there is a child involved and says something about our nation when we have children put upon the way Trayvon Martin was.
O'Reilly then asked, "Is there a difference between a white mob setting upon minorities — don't have to be African-American, could be Hispanics, could be American Indians, anything — and a minority, again, could be any minority setting upon white people? or is it the same?"
Noting it would be case-by-case, Smiley said, across the board, "I don't see the difference."
Smiley then added that in Martin's case, the mainstream media, including O'Reilly, did not cover the story for weeks — while black media did. O'Reilly replied that, as soon as they heard about the Martin case, they were on it. The two went back and forth, with O'Reilly insisting he was on it when he heard about it — and Smiley saying that the national media delayed in recognizing the story.
Smiley said, "All life is precious," and O'Reilly noted toward to the end, "Black crime isn't covered as much. That might be The Virginian-Pilot thing."
Take a look, via Fox News:

Have a tip we should know? tips@mediaite.com