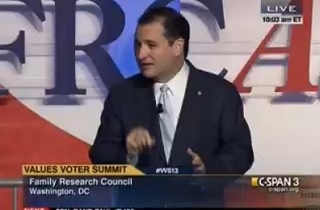 In a political season filled with "hostage" metaphors, the architect of the current government shutdown standoff, Senator Ted Cruz (R-TX), seems unaware of his role in that metaphor. During a Friday morning speech at the 2013 Values Voter Summit, Cruz joked that he might be abducted and disappeared when he goes to the White House this afternoon for a meeting with President Obama.
"So, this afternoon, President Obama has invited the Senate Republicans to the White House," Cruz said. "So after leaving here, I'm going to be going to the White House. I will make a request, if I'm never seen again, please send a search and rescue team."
Yes, you heard right, Ted Cruz is afraid the government will take him hostage.
After pausing for pasty laughter, Cruz added, "I very much hope tomorrow morning I don't wake up amidst the Syrian rebels," then responded to an audience member by saying "But listen, that's true, they'll talk to us, unlike this administration, you're exactly right."
The Syrian rebels, it should be noted, have neither the ability nor the inclination to crash the global economy.
Senator Cruz then went on to demonstrate why it is that the White House would never wish to see Cruz harmed in any way. "None of us know what's going to happen on this Obamacare fight right now," he said. "In my view, the House of Representatives needs to keep doing what it's been doing, which is standing strong."
Why would President Obama want to do anything to the guy who is almost single-handedly putting the House of Representatives back in play in 2014? If Cruz has to watch his back, it's not at the White House.
Here's the clip, from C-Span 3:
Have a tip we should know? tips@mediaite.com