'That's a Dodge!': Megyn Grills Ex-Trump Adviser on Whether Trump Is an 'Honest Person'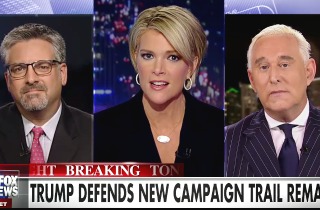 Megyn Kelly started her show tonight by tearing into the liberal media's bias on abortion, but later on in the hour, she got pretty worked up about Donald Trump's campaign trail honesty (or, rather, lack of it).
Kelly confronted ex-Trump adviser Roger Stone over Trump's mockery of a disabled reporter. Stone ducked the question, leading Kelly to snap, "That's a dodge. Why don't you stay in the ring? Stop getting out of the ring."
Stone said Trump wasn't mocking the reporter's disability, which Kelly reacted pretty incredulously to. Steve Hayes chimed in, "Anybody inclined to give Donald Trump the benefit of the doubt at this point is an idiot!"
RELATED: Megyn Kelly Hits Back At Trump's Accusations of Cherry-Picking Polls: 'Facts Matter'
Kelly challenged Stone on the many, many times Trump has made controversial statements and tried to walk them back by claiming people are misinterpreting him, as well as the other times when he just straight-up made stuff up, like his assertion about Muslims cheering in New Jersey on 9/11.
Stone said the larger issue is that Muslims all over the world celebrated, but that really set Kelly off. She asked, "How is that the larger question? That's a dodge!… What this story is about is whether the frontrunner on the GOP side for president is an honest person."
And when she moved on to Hayes, she said this of Stone:
"This is what happens. This is what Trump's lawyer was doing on another channel earlier tonight. They just go to a different place. It doesn't matter whether he tells the truth. 'You know, he's got it right in spirit.'"
Watch above, via Fox News.
[image via screengrab]
— —
Follow Josh Feldman on Twitter: @feldmaniac
Have a tip we should know? tips@mediaite.com
Josh Feldman - Senior Editor