The Five's Bolling Trashes Biden: 'Condescending, Smug, Morally And Intellectually Bankrupt'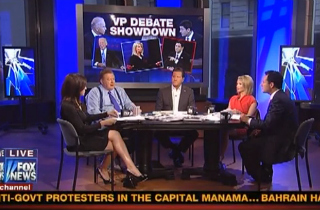 This afternoon, Fox News' The Five dedicated the first segment of the show to the co-hosts' individual thoughts on last night's vice-presidential debate. The show's four more conservative co-hosts universally panned Vice President Joe Biden for a "smug" and "arrogant" attitude towards his Republican counterpart, while the show's liberal host praised Biden for being effective despite going a bit "overboard" with the attitude.
Host Eric Bolling began the segment by tearing into Biden: "Mr. VP confirmed all of our suspicions. He's a jackrabbit. He embarrassed himself. He embarrassed the office. He embarrassed the country. He lied about taxes. He lied about contraception. He lied about his voting record on wars. Most importantly he lied about what went on in Libya."
"The scary fact is that this guy is one heartbeat away," Bolling continued. "This condescending, smug, morally and intellectually bankrupt man is one heartbeat away from the presidency."
Co-host Andrea Tantaros did not mince words either. She described Biden as looking "so cocky and so arrogant" during Thursday night's debate. "Every woman has worked in an office with a Joe Biden," she continued, "the guy that puts his finger in your face; the guy that dresses you down and knows more than you do: 'Honey, go make some coffee.'"
"If he is going to behave that way in public with millions of people watching," she added, "how does he behave in private?"
Dana Perino echoed Tantaros' women-centric claim by joking: "Say you're in your 60s, you're thinking you would like to date again. If you want to know exactly how to turn off a woman, watch that debate last night and follow Biden."
Brian Kilmeade added that he believes "Biden hurt himself" by coming off as "bullying and distracting." He cited veteran journalist Tom Brokaw who, this morning, slammed the vice president for laughing during a serious conversation about nuclear war and Iran. "His content was good, demeanor was awful. He hurt himself with how he acted," Kilmeade reiterated.
Tantaros chimed in that "this is the liberal stereotype: dress people down and be cocky and rude and arrogant –they think it's funny."
Liberal co-host Bob Beckel agreed with his co-hosts that Biden "probably went a little overboard with some of the hysterics," but said he believes the vice president "did what he needed to do" by effectively rallying the "excited" base" with a firm performance that "exposed Romney and Ryan for what they are."
Watch the segment below, via Fox News:
— —
>>
Follow Andrew Kirell (@AndrewKirell) on Twitter
Have a tip we should know? tips@mediaite.com