The Rogue: Joe McGinniss Discusses Sarah Palin's Alleged Cocaine Use On Today Show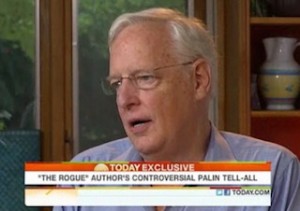 Savannah Guthrie filed a report this morning focusing on some of the more outrageous allegations in a controversial new biography of Sarah Palin just published by author Joe McGinnis. The book is controversial for a variety of reasons, not least of which because it shares some remarkably personal details about the sex life of Ms. Palin before she was married and also alleges that she and Todd had used cocaine. The book notably received a negative review from the NY Times.
McGinniss has long been considered a well-respected writer, though his actions in researching this unauthorized "tell-all" raised a lot of eyebrows. Guthrie correctly presents McGinnniss book in the context of a reporter who rented a house next door to the Palin's Wasilla home, which understandably raised the ire of the Palin family, but also raised questions of privacy with regards to the relationship between an unauthorized biographer and his or her subject. As such, many of the most interesting details in this book are understandably considered with the patina of retribution for much of the anger McGinniss felt from both national media personalities and local Wasilla residents.
To his credit, however, McGinniss does not shy away from the conflicting relationship he had with the Palins in presenting his "side" of the story, and reveals many doozies that will likely be discussed in many months to come. Some of the most controversial topics include Sarah Palin's alleged unpopularity among her closest acquaintances and reported cocaine use by both Palin and husband Todd. Former NBA basketball player Glenn Rice reportedly confirms an included story of an romantic affair that he had with an unmarried Sarah Heath, who was reporting on Great Alaskan Shootout, a college basketball tournament covered by Palin while she was a local sports anchor.
Todd Palin released a statement regarding McGinnis and the book, which reads:
"This is a man who has been relentlessly stalking my family to the point of moving in right next door to us to harass us and spy on us. He traffics in innuendo and falsehoods. A few years ago he interviewed members of Sarah's administration for a magazine article, and afterwards they said that he was the most disingenuous and intellectual dishonest writer they'd ever dealt with. He's spent the last year interviewing marginal figures with an axe to grind in order to churn out a hit piece to satisfy his own creepy obsession with my wife. I'd ask that people consider these facts when evaluating his latest lies."

"I'd ask the fathers and husbands of America to consider our privacy when one summer day I found this guy on the deck of the rental property, just 18 feet away next door to us, staring like a creep at my wife while she mowed the lawn in her shorts, unbeknownst to her that he was prying. As well as our teenage daughters while they tried to enjoy our traditional Alaskan summer days outdoors. Joe's son told the media he advised his dad not to move from the East Coast to become our next door neighbor, but said his dad 'was just waiting for Todd to be out of the picture.' Sarah has never spoken to this intruder into our lives, our friends and family don't speak to him, so we have no idea where he would come up with content for his book. He was on our doorstep one day trying to make conversation with our son until Track cut the conversation short after discerning Joe's odd behavior, and I spoke to him one time when I saw him 18 feet away, just to find out who he was. He took that conversation and reported it to the media as me 'threatening' him."
Watch the following segment courtesy of NBC News:
Have a tip we should know? tips@mediaite.com
Colby Hall - Founding Editor