The Storm Before The Storm: Behind The Scenes Of The Presidential Press Conference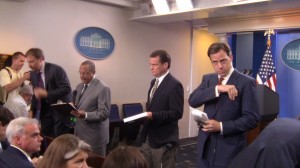 On Friday morning, President Obama delivered another press conference in the Brady Briefing Room to talk about the contentious negotiations over raising the debt limit. Presidential pressers in the briefing room offer a completely different dynamic from a more formal East Room press conference. They're more crowded, with a looser, on-our-turf atmosphere. As part of our ongoing mission to take you Inside the White House Press Corps, here's a glimpse of some of what you didn't see on TV.

During a normal daily briefing, there's a lull before the Press Secretary appears, as reporters roll in, freelancers first, print, radio, and online next, to see how late it's going to start. The TV reporters are always last into their seats, but aside from some banter, it's relatively quiet. East Room pressers feature much larger crowds, but the commotion level is low. The room is immense, the air is dry and hot, and we're usually brought in there up to an hour in advance, so by the time the thing starts, we're all ready for a juice box.
Today's briefing room presser, though, was another story. I'm not saying it was crowded, but several sardines had to be escorted out due to panic attacks. While there were certainly a lot of reporters there, the real space-glommers are the still photographers. There are usually only a few, if any, at a daily briefing, but there had to be twenty or thirty of them there today, equipped with comically long-lensed cameras, and many of them with stepladders.
The briefing room is also relatively narrow, which means that the TV reporters have to line up like The Usual Suspects, and for the life of me, I have no idea how they keep their heads straight. I can't even talk on the phone and pay for drive-thru at the same time.
Here's some video I shot leading up to today's press conference that captures, to some degree, the atmosphere of this kind of event. The TV reporters at the front of the room are, from left to right, NBC News' Chuck Todd, Fox's Wendell Goler, CBS News' Chip Reid, ABC's Jake Tapper (who always has a quip for his control room), and CNN's Jessica Yellin. About 20 seconds in, watch how everything shifts into overdrive when we get the 2 minute warning. (For once, the two minute warning actually lasted for about 2 minutes)
Have a tip we should know? tips@mediaite.com