The Young Turks On Wikileaks' Michael Hastings 'Scoop': Reporter Was Already Spooked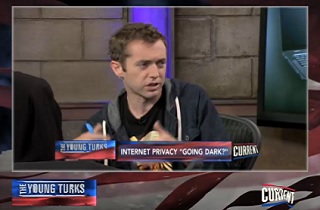 (UPDATED AT BOTTOM) Wikileaks' revelation, that Michael Hastings contacted them hours before his death to tell them that he was being investigated by the FBI, came as no surprise to The Young Turks' Cenk Uygur. On Wednesday night's edition of Current TV's The Young Turks, Uygur read the Wikileaks tweet on the air, and used it to introduce a clip in which Hastings, in an earlier Young Turks episode, tells Cenk that "people in the special forces community" told him "all the time" that he was being surveilled. Uygur also said, Thursday morning, that Hastings spoke often of his suspicion that he was being spied on, and that it was a source of great agitation to him.
After reading the Wikileaks tweet, Cenk played a clip of Hastings expressing concern over the "surveillance state," and its chilling effect on investigative journalism. "All you have going for you," Hastings said, "is that they have so much information, and they're generally incompetent morons, who are bothering surveilling me rather than people who are going to go blow up Boston, that's their problem."
He added that "I cannot confirm that I have ever been… except that people tell me all the time, in the special forces community…"
Following the clip, Ben Mankiewicz agreed that Hastings' suspicions were well-founded. "I'm not the least bit paranoid," he said, "but if they looked at James Rosen, wouldn't there be some reason to look at Michael Hastings?"
When I spoke to Cenk this morning, he was unaware of Wikileaks' hours-earlier tease tweet, but when I asked if he thought it was scummy and exploitative, he said "It might not be the way I would have done it, but I'm glad they put it out."
He told me that Hastings had spoken often of his fear that he was being spied on, and of "intelligence officers messing with him. It's my understanding that Mike was thinking about writing a piece about the intelligence community, he was always writing about what different branches of the government were doing wrong, so given the police state we're living in now, it would be the most natural thing in the world for them to look at his emails, look at what he's up to."
According to Cenk, Hastings had been "agitated" for a long time about the government investigating him, but pointed out that Hastings had not told him that the FBI was investigating him.
I asked Cenk if he thought it was responsible of Wikileaks to make the revelation in the way that they did, which I argued carried the strong suggestion that the FBI may have had some role in Hastings' death.
"I don't think that's the implication at all," he said. "I think the implication is that they drove him crazy," and perhaps into a state of recklessness. but he added that "I don't know what his state of mind was that night, I hadn't spoken to him."
I'm a tad more skeptical than most about the martyrdom of James Rosen, but Michael Hastings is a different story entirely. His reporting, and his unvarnished style, didn't earn him many friends among those he reported on, which was a point of pride to him. Speculation aside, though, Michael Hastings' death is still under investigation, and there are no facts to indicate that his death was anything but a tragic accident.
As for Wikileaks, it seems clear that there must have been more to the story than they are telling, such as what was Hastings' basis for the claim that the FBI is investigating him. That ambiguity seems intended to cause speculation, which it has. In response to our request for comment, FBI spokesperson Ari DeKofsky said "We can neither confirm nor investigative activity at this time."
UPDATE From the FBI:
"At no time was journalist Michael Hastings under investigation by the FBI."

– Ari Dekofsky, FBI Los Angeles Spokesperson
Have a tip we should know? tips@mediaite.com