The Guardian: Info 'Inadvertently Acquired' By NSA 'Can Be Retained, If It Is Useful'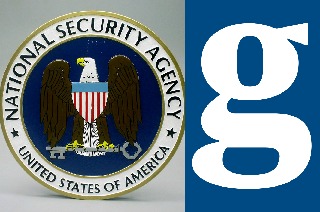 The Guardian, a U.K.-based publication which has been revealing details of the National Security Agency's communications monitoring programs over the last month, released more details of the NSA's information collection and retention practices on Thursday.The Guardian reports that, contrary to claims by Obama administration officials, information 'inadvertently obtained' during domestic monitoring can be retained and possibly used without individualized warrants.

"The documents show that even under authorities governing the collection of foreign intelligence from foreign targets, US communications can still be collected, retained and used," The Guardian reports.
The Guardian notes that President Barack Obama and a variety of administration officials have cited the fact that the NSA's practices are approved by the Foreign Intelligence Surveillance Act courts. This, those administration officials contend, shows that there is sufficient oversight of those programs. The practices those courts have approved of, however, have not previously been revealed.
[T]he FISA court-approved policies allow the NSA to:

• Keep data that could potentially contain details of US persons for up to five years;

• Retain and make use of "inadvertently acquired" domestic communications if they contain usable intelligence, information on criminal activity, threat of harm to people or property, are encrypted, or are believed to contain any information relevant to cybersecurity;

• Preserve "foreign intelligence information" contained within attorney-client communications;

• Access the content of communications gathered from "U.S. based machine[s]" or phone numbers in order to establish if targets are located in the US, for the purposes of ceasing further surveillance.
"One such warrant seen by The Guardian shows that they do not contain detailed legal rulings or explanation. Instead, the one-paragraph order, signed by a FISA court judge in 2010, declares that the procedures submitted by the attorney general on behalf of the NSA are consistent with US law and the fourth amendment," reads the bombshell report.
"[FISA Amendments Act] warrants are issued by the FISA court for up to 12 months at a time, and authorize the collection of bulk information – some of which can include communications of US citizens," the report continues. "The broad scope of the court orders, and the nature of the procedures set out in the documents, appear to clash with assurances from President Obama and senior intelligence officials that the NSA could not access Americans' call or email information without warrants."
NSA analysts are not permitted to collect information on US citizens, but individual analysts are allowed to use information at their disposal, "including IP addresses, statements made by the potential target, and other information in the NSA databases," to determine whether a target is in the U.S.
Where the NSA has no specific information on a person's location, analysts are free to presume they are overseas, the document continues.
While non-pertinent information collected must be destroyed, the NSA is permitted some discretion as to when it is necessary to retain data collected on U.S.-based persons.
Even if upon examination a communication is found to be domestic – entirely within the US – the NSA can appeal to its director to keep what it has found if it contains "significant foreign intelligence information", "evidence of a crime", "technical data base information" (such as encrypted communications), or "information pertaining to a threat of serious harm to life or property".
Read the full report via The Guardian
> >Follow Noah Rothman (@NoahCRothman) on Twitter
Have a tip we should know? tips@mediaite.com