'This Dude Is Straight Up Nuts': Lawyer Reveals Chris Kyle's Text About Killer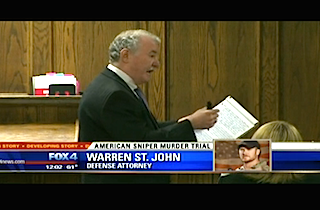 Wednesday morning, attorneys made opening arguments in the murder trial of Eddie Ray Routh, who admitted to killing former Navy SEAL — and subject of American Sniper — Chris Kyle and his friend Chad Littlefield in 2013, but is seeking an insanity defense. During his statement, Routh's defense lawyer Tim Moore revealed an ominous text Kyle sent to Littlefield during their final drive to the gun range where they were killed.
"Chris Kyle was sitting in the driver's seat on his telephone and he texted Chad Littlefield, sitting right next to him, he texted him, 'This dude is straight up nuts,'" Moore told jurors.
Littlefield reportedly responded, "He's right behind me, watch my six," using the military slang for "cover me from behind."
"When he took their lives, he was in the grip of a psychosis, a psychosis so severe that he did not know what he was doing was wrong," Moore said, laying out the basis for the insanity argument. "In fact, not only didn't he know that what he was doing was wrong, he thought at that time it was either him or them — that he had to take their lives because in his psychosis … He was going to take their souls. Before they took his soul."
On the other side, Erath County District Attorney Alan Nash warned jurors that the criteria for an insanity plea is narrow. "Two best friends are going to befriend another man and spend time with him doing what men like to do: That is, go out and shoot guns together," he said.
"Has the defense proved that when he did that, when he intentionally caused these men's deaths, that he had a severe mental illness or defect to cause him to not know what he was doing was wrong?" Nash asked them to consider at the end of the trial.
Mediaite will provide live streaming coverage of the trial as it progresses.
Watch video below, via KDFW-TV:
[Photo via screengrab]
— —
>> Follow Matt Wilstein (@TheMattWilstein) on Twitter
Have a tip we should know? tips@mediaite.com