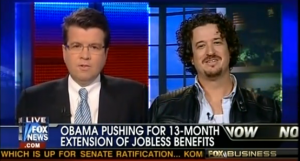 Neil Cavuto's parade of random guests continued yesterday when he invited onto his program John Smallwood, who offered his thoughts on Obama's plan to extend unemployment benefits. John Smallwood is, of course, the guitarist of a "variety rock and roll band" that recently lost an employee, thanks to Obama.

Vinyl Headlights is the name of his versatile group, which has been known to play anything from hair metal to disco. Heartened by this, Cavuto confessed that he's "the only person here at Fox that likes disco." Good to know!
But Obama's policies regarding unemployment benefits are threatening to end the party, Smallwood reported. He told Cavuto that he had to let one employee (probably a bandmate?) go, which he attributes to small-business enemy Obama. "I'd love to employ people," he said. "But I just cant." Yeah, the theoretical departure of a bandmate is on Obama, not that a band equally versed in both hair metal and disco hits is probably not very good at either?
Smallwood, however, seems to be a rising star amongst conservative pundits. Earlier this week, he expressed his thoughts to Michelle Malkin, writing,
We are a variety rock band that travels up and down the East Coast. Yes, everyone thinks we're lefty rockers, but that could not be further from the truth. We're all businessmen, and we provide a service. Since Obama's term, I have been watching our cost of business going up (UI, fuel, licenses, etc.), and we've had to modify our rates lower to keep us profitable. … We have let an employee go to further reduce costs. The last resort is to dissolve the company and send every man for himself. More than likely, all employees would take unemployment. If the government just got out of the way, I could employ people and provide the government revenue, but I am better off employing no one to keep from paying UI and the taxes. If a musician can get it, why can't (Obama)? Oh, wait: He's never had to make a payroll, and private enterprise is the enemy.
A sad song indeed, though you have to wonder how his recently laid-off employee feels about unemployment benefits. At any rate, you can empathize with Smallwood in the Fox News video below, and hire his band for your next wedding here.
Have a tip we should know? tips@mediaite.com