Thomas Roberts Interviews Maggie Gallagher On Anti-Gay Memo: 'Do You Defend Your Own Race-Baiting?'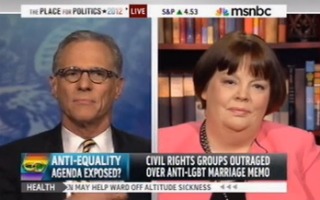 On Friday, MSNBC's Thomas Roberts (finally) spoke with Maggie Gallagher, the former president and co-founder of the National Organization for Marriage. You might recall that there had been a "mix-up," as Roberts explained, with Gallagher's earlier booking on the show, prompting Roberts to O'Donnellinate (that's industry speak for interrogating furniture).
In 2008, NOM circulated a confidential internal memo highlighting tactics aimed at "driving a wedge" between the gay community and black / Latino groups. To delve further into the memo, Roberts also brought on gay rights activist and presidential candidate Fred Karger, who is now running as an Independent.
RELATED: MSNBC's Thomas Roberts' Empty Chair Shtick Backfires, Leads To Apology
"Maggie," Roberts asked his guest, "do you defend your own race-baiting to further bigotry and homophobia on a national level?"
"Well, of course, I haven't stopped beating my wife yet," Gallagher replied, "because I never began beating my wife. You know, listen, this was an in-house document. I don't like the language, because I think it makes us sound way too big for our britches. The truth is, what we've done since 2009, when that was described, is reach out and work with people across lines of different races, different creeds, different colors who believe we need to protect marriage as the union of husband and wife."
"It's insulting to suggest," she continued, "that these African American or Latino leaders are standing up because NOM is manipulating them."
Later, Roberts asked Gallagher what the memo meant in referring to "inappropriate assimilation" in regard to Latinos. "And why is too far off," he added, "to think that NOM carries this much power when you're trying to interject yourselves in the marriage equality discussion all over this country?"
"The problem with the premise of your question," she replied, "is it suggests that we're making this up or that we caused this divide. The divide is actually real."
Karger explained that he'd been asked by the state's Ethics Commission to look into NOM's spending in Maine, given the group hadn't disclosed from where their donations were coming. He noted that NOM had been "inserting themselves in a federal election," and that he hopes to file charges based on that activity as well.
Check it out, via MSNBC:
Have a tip we should know? [email protected]