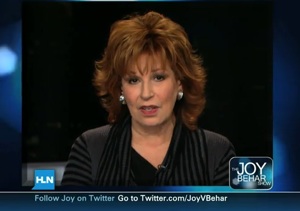 Late Wednesday night, Deadline broke news that Joy Behar would be leaving her show on HLN at the end of the year. And boy, did it do wonders for her ratings. Behar attracted 198,000 viewers in the 25-54 year-old demo. The show still finished fourth, but it was a marked jump from her previous numbers — Behar had averaged 97,000 demo viewers over her previous 10 shows. The jump may have just been from curiosity-seekers, but it was a jump, nonetheless, and Behar's show was the highest-rated on the HLN slate Thursday night.
Some more exciting numbers-based trivia:
Ed Schultz and Rachel Maddow came tantalizingly close to hitting the million-total viewer mark at 8 p.m. and 9 p.m., respectively. Schultz had 999,000 total viewers, Maddown pulled 996,000. All of the Fox shows brought over one million in total viewers.
Nancy Grace gave HLN a second-place finish in the demo at 8 p.m., scoring 193,000 viewers. It was HLN's only second-place finish on the night.
Building off of yesterday's inaugural Maddow Watch ("MaddoWatch"?), in which we see if Rachel Maddow's ratings came close to any Fox show in any time slot, her Thursday show attracted 262,000 demo viewers. Bill O'Reilly's re-air at 11 p.m. brought in 279,000. That's a cushion of just 17,000 25-54 year-olds. Sadly, we'll all have to wait until Monday to see if she makes any more progress tonight…
Average Time Slot Finish:
Fox News: 1
MSNBC: 2.3
CNN: 3
HLN: 3.7
Here are the complete cable news ratings for Thursday night:
TV NEWS RATINGS: 25-54 DEMOGRAPHIC (L +SD)
5 pm
The5

354

Blitzer

139

Matthews

157

Special

67

6 pm
Baier

441

King, USA

117

Sharpton

149

Prime

58

7 pm
Shep

427

Burnett

147

Matthews

173

Issues

114

8 pm
O'Reilly

667

Cooper

140

Schultz

181

Grace

193

9 pm
Hannity

528

Piers

168

Maddow

262

Dr. Drew

148

10 pm
Van Susteren

341

Cooper

210

O'Donnell

234

Behar

198

11 pm
O'Reilly

279

Burnett

148

Schultz

135

Showbiz

112

TOTAL DAY
321
138
132
104
PRIME TIME
514
173
226
176
Data by Nielsen Media Research. Live and same day (DVR) data.
TV NEWS RATINGS: TOTAL VIEWERS (L +SD)
5 pm
The5

1,610

Blitzer

665

Matthews

776

Special

212

6 pm
Baier

2,051

King, USA

470

Sharpton

774

Prime
281
7 pm
Shep

1,909

Burnett

434

Matthews

881

Issues

379

8 pm
O'Reilly

3,166

Cooper

496

Schultz

999

Grace

562

9 pm
Hannity

2,188

Piers

782

Maddow

994

DrDrew

463

10 pm
Greta

1,670

Cooper

732

O'Donnell
806
Behar

529

11 pm
O'Reilly

1,074

Burnett

407

Schultz
466
Showbiz

295

TOTAL DAY
1,386
498
541
276
PRIME TIME
2,346
670
933
511
Data by Nielsen Media Research. Live and same day (DVR) data
Have a tip we should know? tips@mediaite.com